Don't you just love it when you find the perfect skincare groove and then your skin decides to all of a sudden break out and become lack lustre. Stress, hormones, lifestyle, laziness (not washing off ones make-up tsk tsk!) all play a role and can wreck havoc with that seemingly perfect balance you had going on.
This is a post on some products I've added to my current routine. Perhaps your skin is doing the same thing mine is and this post can help. For about two years I tried to stick to a mostly Dermalogica product line-up (Read about it here) when it came to my cleanser and moisturiser. It worked. In fact, it work incredibly well. I'd change up my serums and more intensive creams but I'd found like I had found a simple steady formula. Then all of a sudden it stopped working and for the first time since I was 15 my pores became clogged. I had constant break-outs and needed to find a different cream for my t-zone and for my cheeks/eye area.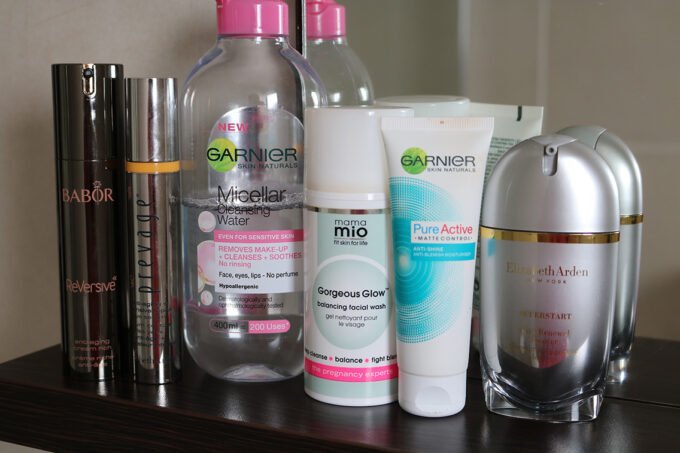 First mistake I made is that I became lazy when it came to removing my eye makeup which led to a more dehydrated eye area. Enter me religiously using my Garnier Micellar water. I alternate between the original (Review here) and the oil-based version (Review here) depending on how heavy duty my eye makeup was that day.
As a cleanser I am still mad about the Mio Gorgeous Glow (Review here) which leaves my skin feeling clean and oil-free but also doesn't strip my skin. I feel no tightness after using this which is very important to me when using a cleanser.
Now comes the mix and match part. Multi-masking might be a major trend at the moment but I believe in multi-seruming. Okay, it doesn't quite have the same ring to it but the effects are just as phenomenal.
On my T-Zone I use Garnier Matte Control (Review here), this has also worked wonders on the clogged pores and helps stop pimples from spreading. It absorbs sebum and allows the skin to breath. Oh and did I mention it is incredibly affordable!
During the day I use Elizabeth Arden Super Start Skin Renewal Booster (Review here) on my cheeks and and forehead. I'm so impressed with this product and love how well it absorbs.
At night I use my beloved Babor ReVersive Anti-Ageing Cream Rich (Review Here) which is super pricey at R3216 but it does last and last. Thanks to the pump action the actives stay active so this can easily last you well over 6 months.
Finally, I'm 26 and fine lines around the eye area have become a problem so I don't care what beauty gurus on Youtube say about not needing an eye cream, I'm using an eye cream mmkay! I really like the Elizabeth Arden Prevage Anti-Aging Intensive Repair Eye Serum (Review here) which certainly isn't a magic wand and will reverse any lines completely but it does seem to be helping in reducing the appearance of them and the onset of more so I'll keep up with it.
Should you wish to know pricing or more info on any of the products then just click on the reviews. I'm a beauty blogger who likes to use the same products quite often and not everything is "a fav" so sometimes I feel like previously reviewed products deserve a second mention especially if they are the ones that I am currently reaching for on a daily basis.