I am so happy to have discovered this product! It is the latest offering from the Garnier Pure Active range… the Matte control moisturiser.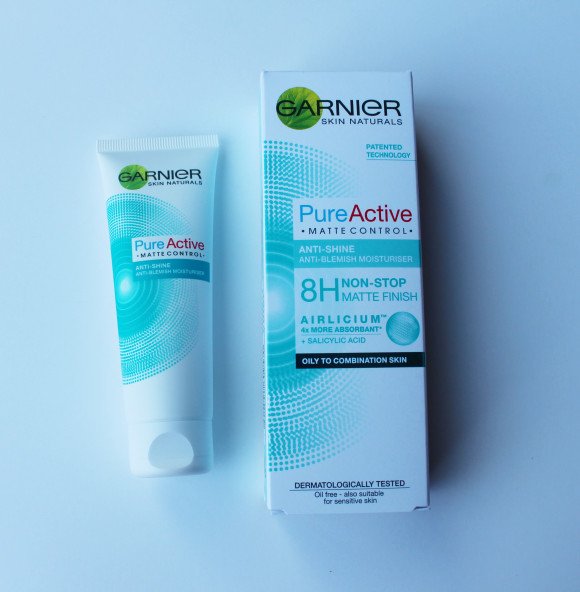 Garnier's Pure Active range is fast becoming my favourite brand along with Dermalogica for controlling my oily skin. Since turning 25 in May my skin suddenly decided to regress back to how it was at 15 and I have been struggling with tiny forehead pimples and breakouts regularly. I put this down to stress but had hoped some products in my admittedly large beauty arsenal would sort it out fast. It has however been a struggle and only now are they finally leaving and not coming back.
I am a long time fan of the Pure Active facial wipes and use them whenever I am too lazy or tired to wash my makeup off. You can read my review here and let me just say that they are the only wipes that A) fully remove all of my makeup, B) leave my skin feeling soft and never too oily nor too dry and C) stop me from breaking out like other wipes.
The Pure Active Matte Control moituriser retails for R99.95 which is a total steal and the formula is fantastic at control oiliness. It claims to work for up to 8hrs and I will say for me without any primer or powder it lasts a good 6 hours. With powder on my t-zone I can go all day and night without shine thanks to this wonder in a tube.
Garnier Pure Active Matte Control contains patented mattifying Airlicium technology which is an ultra-light molecule derived from silica mineral with the lowest density in the world.
The mattifying effect absorbs the sebum that causes shine and creates an active matrix that allows skin to breathe. It also dispels sweat from the skin's surface and breaks up and diffuses light to blur blemishes.
I love how light this moisturiser is and that it truly allows your skin to breath. As I mentioned earlier that I do still experience shine but only after several hours and my breakouts have reduced since using this. It is aimed at the ages between 15 and 35 who want shine-free skin.