The famous Garnier Micellar Cleansing Water has arrived on our shores and it seems that every local blogger has already reviewed it. Just as I was about to head to Clicks to pick up a bottle a bottle for myself and to see whether it is truly worth all the hype, these two landed on my desk from Garnier.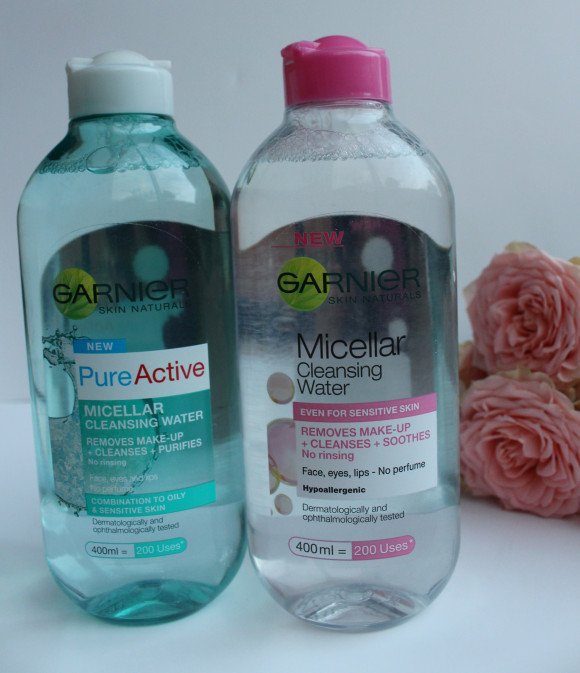 Let me start by stating that I am a Bioderma Sensibo H20 loyalist, in my eyes no other cleansing water could ever take its place on my nightstand that was until this came along. I'm sorry Bioderma but the massive price difference is just not worth it anymore. Garnier Micellar retails at only R79,99 for a big 400ml bottle that equals 200 uses!
There are two kinds- One is the regular Micellar Cleansing Water and the other is the Pure Active version which is best suited for combination to oily and sensitive skin. Now the only ingredient difference that I spotted between the two was alcohol. Yip the Pure Active one contains Alcohol Denat. For this reason only I have steered clear from it. Sorry but I try my best to avoid using alcohol on my face so after using it twice just to test if there was any difference in the feel of the two I am happy to stick to the regular Micellar Cleansing water even though I have oily skin.
The Micellar Cleansing water does a superb job at removing every single bit of makeup and leaves one skin feeling soft and clean. It contains groups of molecules (micelles) that act like dirt magnets and are able to lift away makeup and impurities.
Both have been available in limited stores but are now available nationally and retail for R79,99 each.