I have previously raved about Hannon skincare products over here before. I am seriously impressed with Hannon products overall and their night cream is one of the best I have used and I am actually onto my second re-purchase already. When they sent over a tailored selection of hair care products (including another long-term fav… the Moisture Miracle Treatment) I was ecstatic to say the least, many of which have earned a permanent spot in my shower and in my regular hair care routine.
Let me begin by saying that I like to mix up my shampoos and conditioners. I have several favourites which I use on a regular basis depending on my hair needs. I don't think it is good to use the same product for long periods i.e For Dry hair when your hair is now sufficiently moisturised or for oily hair when it has balanced. In summer I like to use John Frieda Sheer Blonde (review here) and once every 5 washes I will use a "purple" shampoo to keep brassiness at bay. When my hair is feeling dry and damaged I use a range from Joico (review up later this month). I was however in need of a regular shampoo and conditioner. One to use in between which leads me to the Long Hair range from Hannon.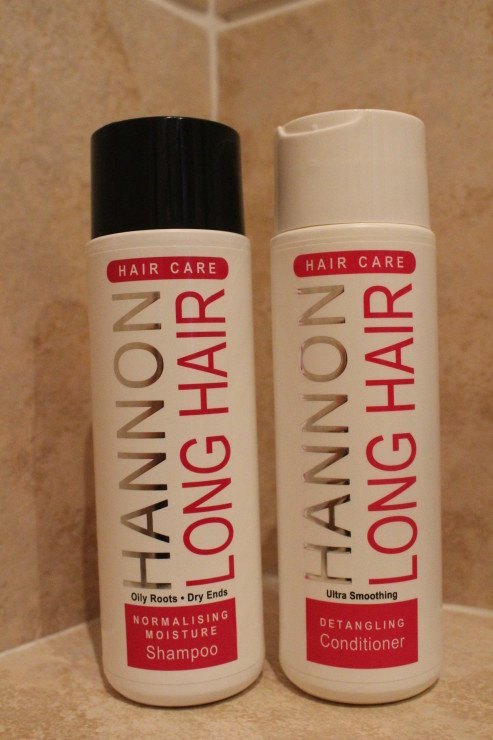 Hannon offers a wider range of hair care products for all hair types. As I am once again growing out my hair below my shoulder blades, I definitely fall into the long hair category. Hannon's Long Hair range covers the two most prominent and somewhat annoying issues associated with having long hair- tangling and oily roots with dry ends.
The Long Hair Hannon Normalising Moisture Shampoo (R145) helps to combat oily roots and frizz while maintaining the protein balance of the scalp and providing moisture to the ends. I find that my hair looks and feels cleaner for longer after using this product. Together with the lightweight Detangling Conditioner my hair is left feeling incredibly soft and with far less frizz. It is also said to help control static electricity effectively reducing any knots when combing your hair. This range is gentle enough for everyday use and it is suitable for colour and chemically treated hair.
Since I am currently a light blonde (considering going darker once again this winter) keeping brassiness and yellow hair at bay is a regular struggle. I admittedly never used to use any "purple" shampoo for fear of turning my hair blue. However, my lovely stylist at Style Bar convinced me that I need to use one at least once every 5 washes.
Hannon's Platinum Infusion Shampoo (R145) and Platinum Leave-in Conditioner Spray (R145) are perfect for removing any yellow tones and maintaining shiny looking locks.
Both of these smell incredible and are definitely not as scary as I thought (even though they are bright blue in colour!). Simply shampoo as you normally would, no need to leave the shampoo on for a long period of time just rinse out and then apply the leave-in conditioner.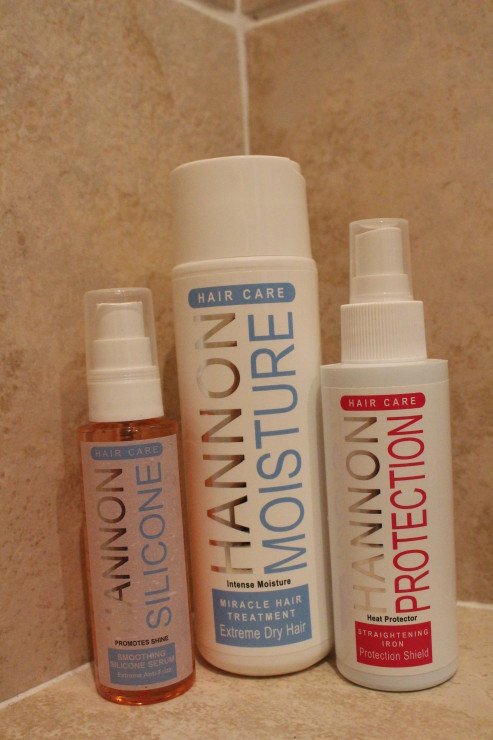 I also received a treatment and two styling products. The Hannon Miracle Hair Treatment (R185) is seriously incredible. I have been obsessed with this product ever since I received it in some beauty box subscription ages ago. To me it is the perfect dupe for the Philip Kingsley Elasticizer Extreme and half of the price! The Miracle Treatment is designed for extremely dry, porous hair. I find it is best to use once a week initially and then it is only required once a month afterwards that is how good a job it does at restoring ones hair.
Straightening Iron Protection Shield (R150) is a fantastic little multi-tasker. Not only does it protect against heat damage from your styling tools, it also contains UV protectors and has a humidity shield that controls frizz. It smells divine and leaves ones hair soft (not sticky like with some heat protectors) and shiny.
Smoothing Silicone Serum (R115) probably my least favourite of the bunch but not because it is bad, simply because it is a regular silicone serum. Quite a well-priced one at that and it does a sufficient job of taming fly-aways. Simply apply one drop to dry, styled hair. I do like that it is water-soluble and therefore won't create build-up like many other silicone serums on the market.