Okay so more like Autumn Fashion Wishlist but Fall Fashion sounds so much better. Perhaps all of the American series and blogs have influenced my thoughts. I am actually ready for the cooler months but my wardrobe certainly needs an update. After this summer it is jam-packed with denim shorts. I went on a bit of a rampage and have yet to even wear several. Yesterday I was walking through the mall and added the following to my shopping list…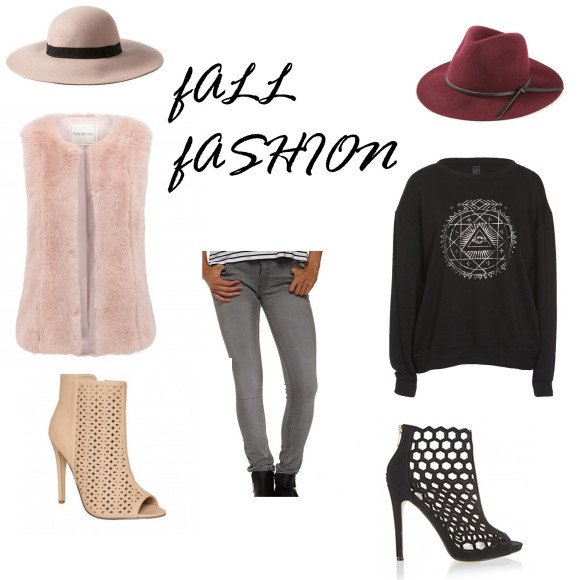 Top left- Hats!!! 90% of the reason why I love fall autumn is that I can wear hats without feeling silly. I found this beaut at Factorie for R200.
Middle Left- I need a gilet in my life, to be more specific I need this powder pink gilet from Forever New in my life!
Bottom Left- How beautiful are these cutout booties from Madison? (Available here)
Center- I am obsessed with grey jeans this season. I spotted these at Cotton On (think they were around R300). The denim is so soft and the shade is so incredibly versatile.
Top Right- Another hat, also from Factorie is this gorgeous warm red felt hat which was around R250.
Middle Right- Should I just give all my money to Factorie at this point? I fell hard for this "witchy" sweater and just had to buy it. The best part is that is available as a sweater and as a hoodie. I went for the hoodie one as it felt much warmer and more comfy. The sweater however has a much more relaxed bigger fit, so a part of me kind of wants both.
Bottom Right- Yes, another pair of cutout booties! This gorgeous pair is from zoom which is available on Spree for R599.