Hannon recently sent me a personalized selection of their new skincare products. I once used a Hannon hair treatment (It was this one) which was incredible and it really helped the condition of my hair, so I was very excited to discover that they had launched a skincare line. The best introduction to any skincare brand is to use their wash, toner and creams all together for a period of at least two weeks as it gives the most complete review of what the brand can offer and whether it delivers. With Hannon's skincare I can certainly say that it delivers! I am blown away by this local brand.
Hannon was very generous and I received quite a few products so this review will be done in stages…
First up: The Basics
Hannon's Cleansing Milk does a spectacular job of removing makeup and even eye makeup. It is extremely gentle and can be used on dry and sensitive skin types. It retails at R235 for 150ml which should last quite some time as only a small amount on a cotton pad is required for the entire face.
Next up we have the Gentle Facial Wash (R235). This smells so refreshing and leaves ones skin feeling super soft. There is no uncomfortable tightness at all thanks to the added jojoba oil and wheatgerm oil. I like how the formula gently and effectively washes away all sebum build-up and my skin actual feels thoroughly cleansed after use.
Hannon have a Toner which is suitable for all skin types- The PH Balancing Toner (R225). This smells so divine and is utterly refreshing. It is also easy-to-use and comes in a practical spray bottle. This toner is also ideal for men because the astringent Witchhazel is great for use after shaving to prevent ingrown hairs .
The Moisturizers:
I received a Balancing Moisturiser (R295) which is suitable for combination skin. Your skin feels deeply nourished and thanks to the special active Moist 24 it leaves your skin feeling moisturized throughout the day. Great for those who work in an environment with an aircon and often find it zapping all the moisture out of your skin by midday. The Balancing Moisturizer helps to provide moisture whilst also controlling oil and preventing breakouts and blackheads.
Their Night Creme Ultra Rich (365) is indulgently rich and your skin feels silky soft after use. I did however find it to be a little bit too rich for my oiler T-Zone area so this is best suited for those with combination skin types erring on the drier side and of course dry skins.
Sun Protection:
Daily Sunblock Moisturiser SPF 30+ (R255)- I was super excited to spot this in my box of goodies since I have been on the hunt for a good facial sunscreen. Finding one that does not feel too heavy on the skin is actually quite the challenge. Hannon's Sunblock is suitable for all skin types and the zinc oxide also helps to treat inflammation and acne breakouts. It is incredibly lightweight and can be used under foundation without affecting the evenness of it nor does it cast a "white" shade.
The Treatments: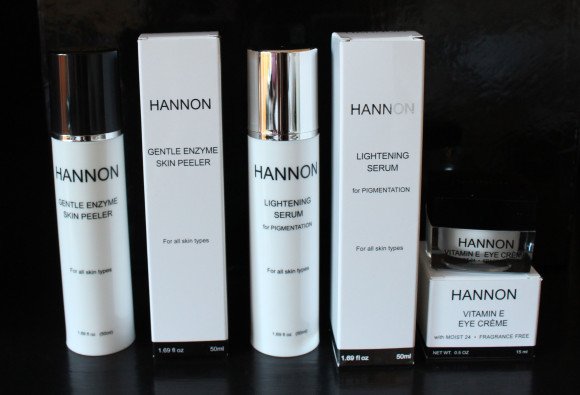 Since I have been seeing a lot more pigmentation develop on my skin recently Hannon sent me two products which help with pigmentation…
The first is the Gentle Enzyme Skin Peeler (R265) which contains papaya and pineapple extract to help remove pigmentation. It can only be used once a week and so far I have been using all of the above products for just over 2 weeks meaning I have only used this one twice. Therefore I have thus to see a massive improvement from it alone. I will do a follow-up review in a month.
The Gentle Enzyme Skin Peeler is gentle on the skin but it sure does tingle and the scent (which is quite menthol) can be a bit strong for sensitive eyes so take some time to relax with your eyes closed for the 10-15 min that you have it on. The menthol effect is actually quite soothing to the skin and I experienced no redness after rinsing it off. As far the exfoliation factor of this product is concerned, it is amazing! It also helps with blackheads and breakouts so it is a total multi-tasker and one that I will from now on always have in my cabinet. Since this contains AHA which can cause photo-sensitivity an SPF is highly recommended specifically Hannon's Daily SunBlock SPF 30.
Next we have the Lightening Serum for Pigmentation with Moist 24 and Oligopeptide-34 (R395). For some reason I didn't expect this to smell as incredible as it does. In fact all of Hannon's skincare products have delightful fragrances to them except for the eye cream which is fragrance free.
The Lightening Serum can safely be used morning and evening everyday and I have already seen an improvement in my overall skin tone. I try to apply it only on the pigmented areas. The Lightening Serum works for any dark discoloration, Age/liver spots and freckles, hormonal pigmentation and acne marks. I will give you an update on the results in the same future post as the Gentle Enzyme Skin Peeler but so far I can already see a definite improvement with smaller pigmented spots under my eye area.
Last but certainly not least- The Hannon Vitamin E Eye Cream with Moist 24 (R265) which hydrates and firms up the skin surrounding the delicate eye area. This cream can help to reduce the appearance of fine lines but is also suitable as an eye cream used for preventing the formation of lines and wrinkles caused by dehydration. You only need a minuscule amount to cover the entire eye area as the formula spreads with ease.
My overall opinion of the Hannon Skincare line: This is a local and well-priced brand that can certainly rival the larger international luxury skincare brands in terms of quality and results. I was genuinely not expecting every product to deliver and impress me as much as it has and I hope that this brand receives the recognition in the beauty world that it deserves.