My ultimate drugstore hair-care brand is John Frieda, which is exclusive to Clicks stores. I have been a long-time user of their Luxurious Volume duo which I still purchase regularly when I want extra bounce but I recently swapped over to their Sheer Blonde shampoo and conditioner duo after trying it out three months back (Review over here). My hair tends to be quite oily at the roots with drier ends so very, very rarely do I discover a hair-care brand where I can swap between ranges without any issues.
Just in time for summer, John Frieda sent over their new Sheer Blonde addition Everlasting Blonde. Summer can be an extremely harsh time for one's hair and even more so if your hair is dyed or highlighted blonde. The John Frieda Sheer Blonde Everlasting Blonde is a colour preserving shampoo and conditioner that can preserve your hair colour for up to 12 weeks. Sound good? Lets find out more…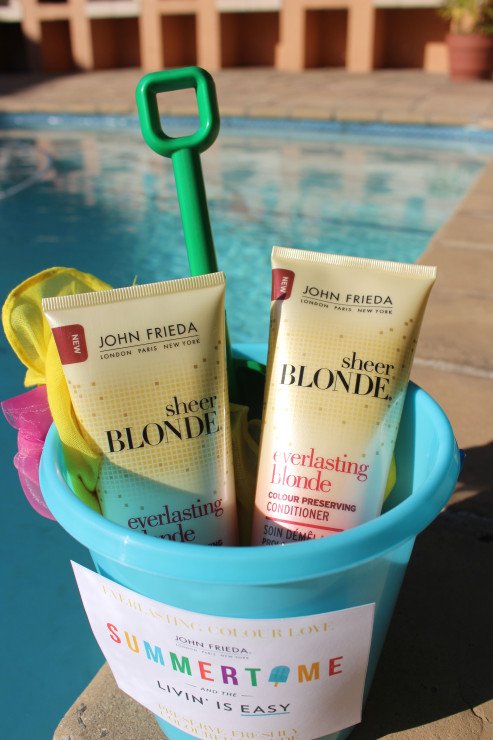 How cute was the press drop in a sand bucket? Although admittedly when I took this shot the bottles are already half empty! I tend to wash my hair 3 times a week which is the exact number the results were based on- 3 washes a week for 12 weeks.
As with all of John Frieda's products the scent is very appealing, fresh and salon-like. The formula contains Bergamot oil which is interesting since I found that my hair was growing at a slightly faster rate since using this duo. John Frieda makes no claims that their formula promotes hair growth but Bergamot oil is well-known among hairdressers as the ultimate essential oil to stimulate hair growth so there is definitely a correlation between the two.
What John Frieda does claim is that the Sheer Blonde range has the ability to remove any dulling residue left on the hair shaft without stripping or drying out the hair. It is in fact the only blonde shampoo I have found that lives up to this claim, I have found that far too many other brands dry out ones hair making it appear even more dull over time. John Frieda Sheer Blonde cleanses the hair's surface of oil, dirt and product build-up while also removing mineral deposits commonly found in tap water. If you have ever lived in an area that has "hard water" then you will know how damaging mineral deposits can be to the overall condition of your hair as well as the look and feel of it. Because blonde hair is naturally more porous it can be more apparent. The Everlasting Blonde shampoo and conditioner also has a colour preserving formula to prevent fading. I highly recommend this range for anyone with colour-treated or highlighted blonde hair. It is available from selected Clicks stores for R95 each.