The other day I was strolling around Clicks and noticed this pack on special for R160 (if I recall correctly the normal price is R190). I use the White Glo Whitening toothpaste as it really does help to prevent stains and it doesn't taste gross, most other toothpaste on the market tend to make me feel super nauseous. White Glo's toothpaste itself is pricey at R39 a tube but it is so worth it. I am a firm believer in Crest Whitening Strips which are unfortunately not available in South Africa which means that I have to order them over eBay. They tend to retail for R300 for 15 double strips depending on which deal you go for etc. However, with our dodgy postal service I have been avoiding any eBay purchases so I threw the White Glo pack in my basket and prayed for the best.
I'm happy to say that this was well worth the impulse purchase! It really, really works. The strips are a little difficult to position, this is where the Crest Professional ones come out tops. However, I have a moulded gum guard from the dentist which I use over the strips and that keeps them in place. I highly recommend doing the same, you can use one of the sports cheapie ones found at most pharmacies and Dischem stores. You only need to wear the strips for 10-30 minutes and once a day or you can spread the time between each application to a couple of days apart.
There are 7 strips in a pack plus the whitening pen. According to the box the 7 strips are all you need to whiten ones teeth significantly and the pen is for touch-ups and to focus on any teeth which may be more discoloured than the rest.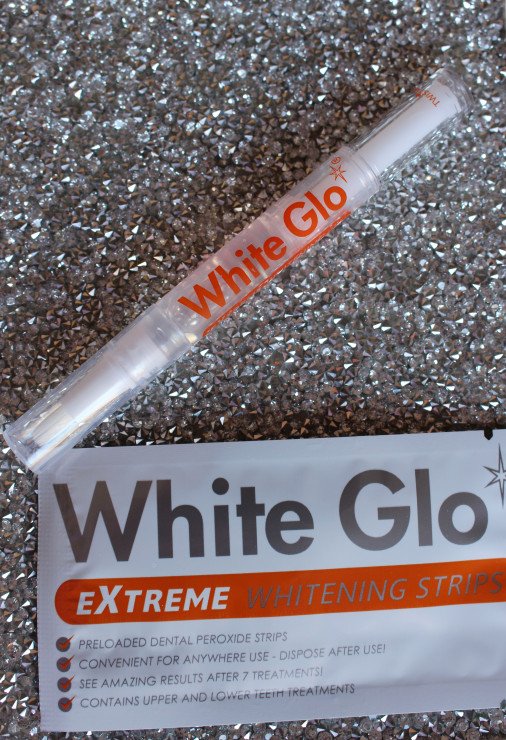 The pen is simple to use and I feel that it will last a fairly long time since one only needs a small amount per tooth. It is in a pen similar to YSL Touche Eclat. Simply twist, twist, twist then gently brush on. Be careful when twisting, you really don't need a lot and obviously don't want to waste any.
The only downside is that the strips don't seem to be available separately. I will definitely be re-purchasing this set though. I also am relieved to say that I didn't experience any sensitivity with the strips. With the pen though it is important to avoid the gum-line, again this is where a gum guard comes in handy.
To my knowledge White Glo is only available at Clicks stores.