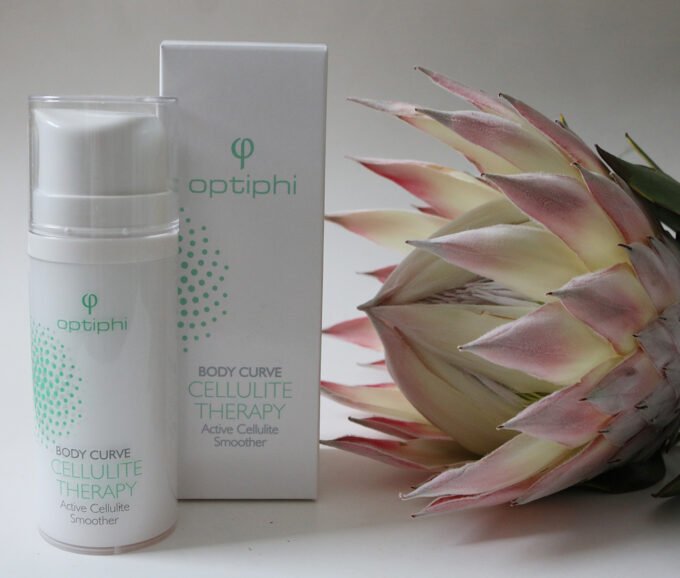 When it comes to cellulite creams I do see results from some and find that overall they really help with not only stubborn cellulite but also the texture and firmness of ones skin. There are currently three I use in rotation. The Clarins Body Lift Cellulite Control which has been amazing for firming up my arms especially. The full Elancyl system which helps with the dimples on the booty. I also love using the shower gel and massage glove in the shower. And… Optiphi Cellulite Therapy (R730) this one works for the fine dimples I had above my knees. After half a bottle they actually are hardly visible anymore but I will continue to use the Optiphi Cellulite Therapy in case they come back. Also I love the lymphatic drainage effect that this cream has on my skin as well.
Optiphi Cellulite Therapy contains some serious actives:
– Soy Isoflavone helps to visibly lift the skin and also protects against collagen destruction and re-densifies the skin.
-I was intrigued to see that the formula also contains Retinol. Retinol is excellent for improving fine lines, wrinkles and sun- damaged skin. The skin's antioxidant capabilities are enhanced, minimizing the damage from internal and external aging factors.
-The skin's regeneration abilities are stimulated, moisture retained and elasticity restored by Peptide-4, which increases the skin's thickness. An increase in elasticity and firmness adds to the improved appearance, creating a smoother silhouette.
– The combination of Centaury and Orientalis Extracts help to calm skin sensitivity and protect the skin. This blend works to combat peroxidation and collagen degradation, providing protection to skin under stress. Further antioxidant protection is provided by Vitamin C and Vitamin B3.
-Plankton Extract balances skin function and structure thereby promoting rejuvenation. It also improves body tone.
-Hesperidin increases circulation, reducing the effects of trapped fluids and decelerated skin function.