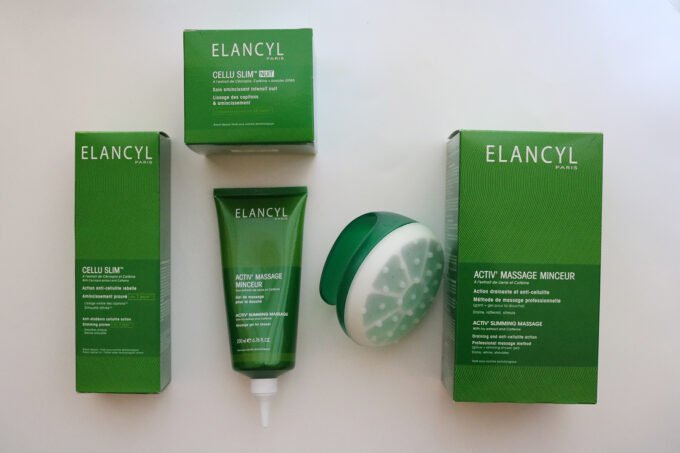 When Rubybox selected me as one of three bloggers to test the Elancyl Cellu-Slim system I was extremely keen. As the previous week I'd mentioned on the blog that cellulite was beginning to show up and that the skin on my legs and buttock area was feeling less firm. Over-indulgence during the winter season and medication had slowed my lymph system down and the first sign of that is when dimples start to appear. It is also best to tackle these as soon as they appear and try to drain and stimulate the lymphatic system which is exactly what the Elancyl regime helps with.
There are three products in the slimming range that work together to firm and visibly improve cellulite.
CELLU-SLIM (R395) is a unique formula that visibly reduces the appearance of stubborn cellulite, leaving your skin smoother and firmer. It contains key active ingredients: Cecropia Extract & Caffeine. The CELLU-SLIM must be applied every morning for 28 days.
ACTIV' SLIMMING MASSAGE (R495) This is a professional slimming massage technique which is developed by a physiotherapist, to help visibly smooth dimpled skin, improve drainage in congested areas and enhance skin tone. The key active ingredients are Ivy Extract and Caffeine and I found my skin feeling firmer and smoother after every use. It should be applied daily in the shower every evening for 28 days. It is important to use the ELANCYL professional massage method for best results.
CELLU-SLIM NIGHT (R495) Is an intensive night slimming care. This cream is my favourite product from the range. It contains GP4G which stimulates the nocturnal cellular metabolism, boosting the break-down action of Cecropia and Caffeine. Apply every evening for 28 days, using the ELANCYL professional massage method. I also have been using the Cellu-Slim night cream in the morning and night on my chin area and have found that it really helps to stimulate lymph drainage and reduce a double chin so a total bonus for that.
Overall the dimples have reduced and my skin on my thighs and buttocks definitely do feel firmer. I do not suffer from severe cellulite and mine is more noticeable in direct harsh sunlight and to my own eye but I am impressed with the system and think it's fantastic to use in order to get ones body looking their best for summer when the shorts and bikinis come out!
Before on the left and After on the right. (p.s it is super hard to take a photo of ones own butt and I felt silly asking someone else too!)
The Elancyl Slimming range is available at Dischem stores nationwide.