I know many of you also suffer from oily skin like I do and when a new "mattifying" foundation pops up I always have to try it. I happened to be shopping at The Body Shop one day when I spotted their new foundation "The Body Shop Clay Matte Clay Skin Clarifying Foundation". It's not exactly new anymore, I think it has been on the shelves for the past three months already but I thought I do a quick review on it in any case. You see in most ways I really, really love it and in one, kind-of major, way I don't. However, the major way is apparently going to change soon!
Let's start with the positives shall we. Firstly, it is incredibly well-priced at only R150 for a tube. I'm not sure why this foundation is so much more reasonable than the other Body Shop's foundations but I'm certainly not complaining. It's also 100% vegan which is fantastic.
I love that it is a lightweight foundation but offers full breathable coverage and a matte finish and is enriched with skin-clearing tea tree. If my skin feels congested then using this over the problem areas never feels like I'm weighing down my skin or clogging my pores. It has a very natural matte finish to it. Another plus is that it's also resistant to water and sweat. Great for summer!
In the shot below I had been wearing the foundation for a solid 8 hours and it was quite a warm day. I didn't apply any powder or primer to my skin so you can see that my skin still looks healthy and covered while still mostly matte. I do have one issue with this foundation though, my skin tends to flake along my T-Zone and just under my nose. You can see the foundation has worn off a bit in that area and up close it looks "crumbly". I'm pretty sad about that as that is the area where I thought this foundation would work best for, the oiliest part of my skin.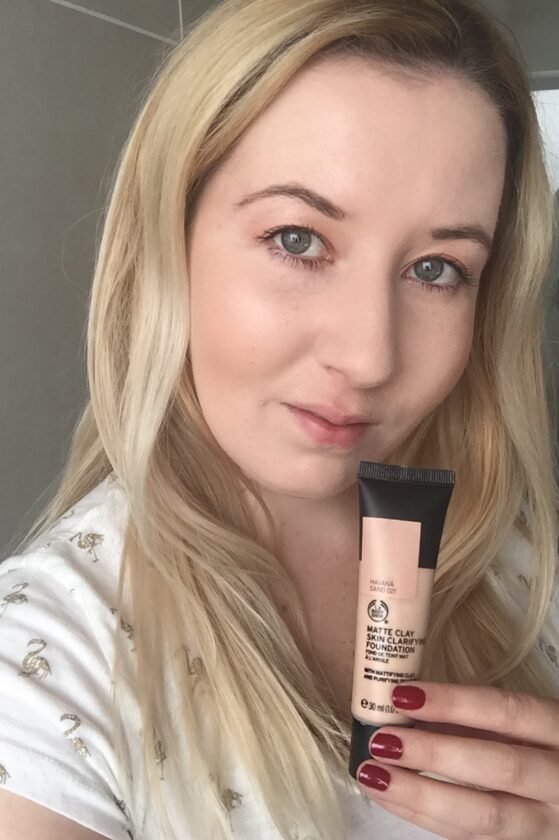 Overall I really do like this foundation and I've found a way to make it work for my skin by using a tiny bit of primer to the T-Zone before applying the foundation. This decreases any flakiness. However, for only R150 it is an exceptionally good foundation.
I do hope that they bring out more shades soon though as they only currently have 10 on offer.They are mostly for lightly tanned skin types with the darkest shade being Moroccan Nutmeg which would fall into most brands middle shade spectrum. I'm extremely fair and I'm shade 4 which is Havana Sand 021.
Update: I recently attended a launch at The Body Shop and they re-assured me that there will be more shades coming out soon.