I recently had a Visia scan at Dermatologist and founder of Dermastore, Dr Ian Webster's offices by the amazing Sarah Stringer. The timing was perfect as I'd gone to a launch the week prior and received SkinCeuticals latest product or should I rather say innovation- the Glycolic 10 Renew Overnight cream. It turns out that due to deeper set pigmentation issues, thanks to years baking in the sun as a teen, it's the perfect product for me.
In fact, this should be a staple in ALL South African women's and men's beauty cabinet. We are exposed to such harsh elements and the Glycolic 10 Renew Overnight cream is a nightly treatment that helps promote cellular turnover and refine radiance. You'll be hearing any good beauty blogger or editor raving about this product because it is exceptional. I'll be doing a more detailed post on it next week, as before using it there are some things one needs to do in order to safely and effectively incorporate it into your winter beauty routine.
Thanks to the scan I now know exactly which Skinceuticals products would work in harmony with the Glycolic 10 Renew Overnight cream and alleviate any of my other problems. It's very important that when using this product you use a gentle cleanser, something without any AHA's, basically anything that says "exfoliating" or "resurfacing" are a no-go. This product is well-equipped to do all that and you don't want to irritate the skin.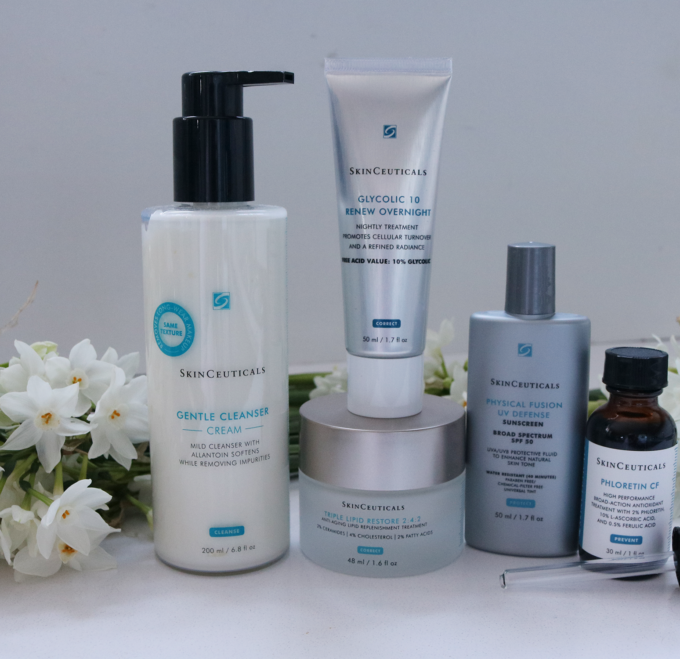 The SkinCeuticals Gentle Cleanser Cream (R550) is divine, it's silky soft with a refreshing zesty citrus scent. It effectively removes makeup and works for all skin types but if you have dry, dehydrated or sensitive skin then you'll love it too.
The other product is an SPF, must I say that louder for the people in the back. Use an SPF!
SkinCeuticals Physical Fusion UV Defense Sunscreen (R645) is definitely one of the best I've used. It's a broad-spectrum SPF 50 and cover UVA and UVB rays. It's also water-resistant for 40 minutes. It does contain a tint which claims to be a "universal" tint and it actually does work on all skin tones surprisingly. Also it is paraben and chemical-filter free.
Whilst the Glycolic 10 Renew is strictly for night time only, the SkinCeuticals Phloretin CF (R2730) is the ideal day serum to use. SkinCeuticals Phloretin CF is an advanced daytime antioxidant serum which provides superior environmental protection. Yes, it comes at quite a price but it is seriously high performance. The treatment is a pigment regulator which helps to reduce dullness and discolouration of the skin. Retextures and evens skin tone for a brighter more radiant complexion in normal, combination and oily skins.
The key ingredients include Phloretin 2%, which is an antioxidant that neutralises free-radicals, accelerates cell turnover and reduces the production of unwanted pigment. L-Ascorbic Acid 10% neutralises damaging free-radicals and protects the breakdown of skin from oxidative stress. Ferulic Acid 0.5% is a plant-based antioxidant that neutralises free-radicals and helps to inhibit UVA, UVB and protect the skin from Infrared radiation and harmful ground Ozone which can be a contributing factor to pigmentation. This is such an incredible product and the difference can be seen and felt.
As winter approaches, our skin tends to feel drier but also as we are gently exfoliating we want to add back moisture. The SkinCeuticals Triple Lipid Restore (R2650) is an anti-ageing treatment that helps to refill cellular lipids. I've always thought that it may be too rich for my skin and gone for the MetaCell Renewal B3 (R1800) but I should of known SkinCeuticals knows how to create excellent formulas. Nothing sits on the skin, feels too rich or too tight.
They are a cosmeceutical brand that knows the best use of potent actives and also how to deliver them no matter your skin type. I honestly can't get enough of this lotion. My skin feels so healthy on this regime. Also my oiliness has balanced and my skin looks 100% more refined.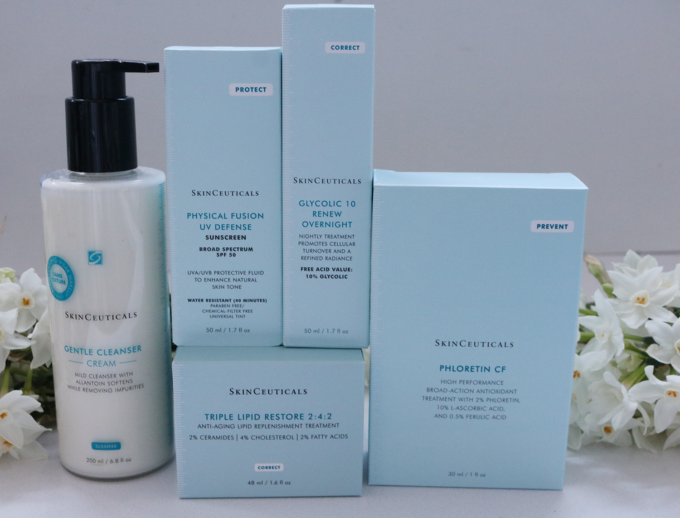 To purchase any SkinCeuticals product visit Dermastore, they have skin specialists on the chat pop-up who will really listen to what your skin needs and help you find the right products for you.
Disclosure Ranking: 2