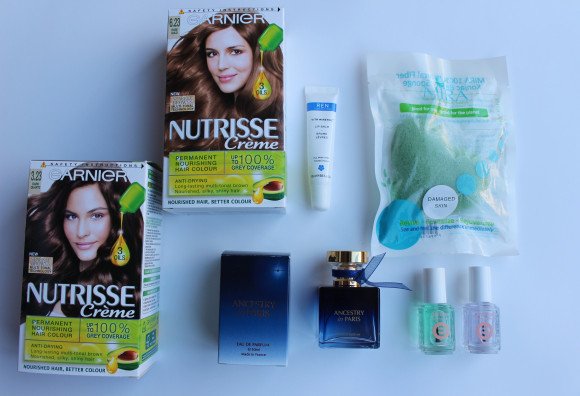 REN Vita Mineral Lip Balm arrived alongside the REN Hot Cloth cleanser but I wasn't allowed to say anything about it until now. It has been a total lip-saver on these cold and icy mornings and I have been dying to share it with you all. It doesn't have a scent and is perfect for those with sensitive skin types. It also works wonderfully as a primer before applying lipstick. REN Vita Mineral lip balm retails for R150 for 15ml and is available at selected Woolworths & Foschini stores nationwide as well as online.
Ancestry in Paris EDP was included in a press drop with the Artistry Exact Fit compact foundation. To be honest my first impressions when I looked at the bottle and name weren't favorable. I expected a very watery "meh" fragrance but was completely bowled over when I first sprayed it. The scent is very elegant and sophisticated. It is also far from watery and the richness of the scent lingers for a good period of time. It contains the purest essential oil of night-blooming jasmine combined with bouquets of fresh flowers. There are also notes of green leaves and a base of white musk and rose. Ancestry in Paris EDP retails for approx R750 and is available through Amway.
Essie have an incredibly cheerful winter collection launching in July and my review of these shades will be up on the 1st so do keep an eye out for it. No matter what shade you choose a good quality base and top coat is a must. For years I have always trusted Essie when it comes to treatments and Good to Go and First Base are the ultimate duo. The reason I feel like I have re-discovered them is that I have been inundated with Gel-like nail polish systems and sometimes one just needs to head back to basics. Essie First Base (R130) helps bind nail polish to nail plate for a longer lasting manicure. Essie Good To Go (R130) has saved many a manicure from smudges thanks to its rapid-drying formula. It also provides a high-shine finish and is DBP, Toluene and Formaldehyde free.
So this is a bit of a weird one as I am not a brunette nor have I personally used these shades but I really wanted to share the two new shades from Garnier's Sparkle Browns range. My colleague tried out the 6.23 Rose Gold and absolutely loves the shade and the shine the colour provides. The 1st Browns Collection from Garnier Nutrisse Crème that offers a unique combination of gold and iridescent multi-faceted reflects. The range consists of two shades- 6.23 Rose Gold and 3.23 Dark Quartz and retails for R104.95.
Finally, I am giving Konjac sponges a try. I know that I am very late to the party with this one but I just have never been convinced by them. I've only been using this one for a week and the exfoliation factor I am enjoying, can't say I am "glowing" more but I will do a further review after testing it out a bit longer.
What products are you currently loving?