Sometimes the beauty gods send a product at a time when you most need it and such was the case with REN's latest cleanser in their Rosa Centifolia range… The Hot Cloth Cleanser.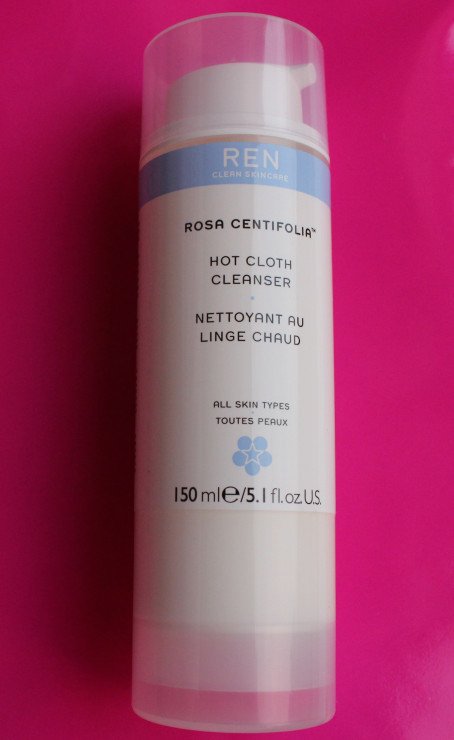 I have been very ill the last two weeks thanks to a nasty bout of flu and my skin felt raw and dry on my face. I had just received the REN Rosa Centifolia Hot Cloth Cleanser and it looked so creamy and rich that I decided to give it a try straight away. The immense comfort of applying a rich, gently rose-scented cream cleanser to ones dry and thirsty skin and then massaging it in felt heavenly. The great thing about this cleanser is that it removes makeup, meaning you can safely albeit very gently apply over the eyes too. You must apply this cleanser to dry skin and just massage it in for a couple of minutes before the second step, which is to place a hot cloth over your face before wiping away the cleanser. This allows the pores to open up and ensures a nice thorough cleanse. The process feels nourishing and luxurious and is especially a treat during winter. Once you have wiped away the cleanser simply splash a little bit of cold water onto your skin to close the pores again.
REN's Hot Cloth Cleanser is suitable for all skin types and left my skin feeling clean, soft and comfortable. Rosa Centifolia contains the bio-extract Vitamin P which protects the capillary venous system to de-congest and soothe. After a week of use in place of my regular cleanser I have found that the congestion on my forehead has diminished quite a bit. This is a very nourishing cleanser and it contains cocoa seed butter that helps to improve the skin's barrier function against moisture-loss. The divine Damask Rose Petals not only provide a luxurious scent but are also stress-relieving and soothing.
REN Rosa Centifolia Hot Cloth Cleanser retails for R330 and is available at selected Woolworths stores as well as online.