Smashbox sent me a selection of their products which launched in May. I honestly felt like a kid at Christmas when I first peeked inside the box.
There are so many great and exciting products, not that I expected any less from Smashbox. Their Primer's are a part of my daily routine and I have plenty of love for their eyeliners but had yet to try out there lipsticks (which are amaze) until now.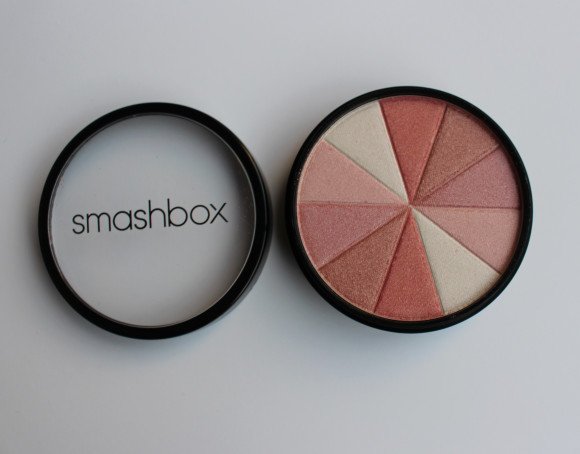 Fusion Soft Lights Baked Star Blush (R330) is incredible and is basically lighting in a compact. The 5 hues- Peach, Soft Gold, Deep Tan, Champagne, Bronze, Starburst can either be used individually or blended together. To use simply dust over face, eyes, décolleté, or anywhere you want a boost of radiance. The Baked Star Blush is used to mimic soft lights and you should use it on target places where the light would naturally hit like the apples of your cheeks, the bridge of your nose, and temples.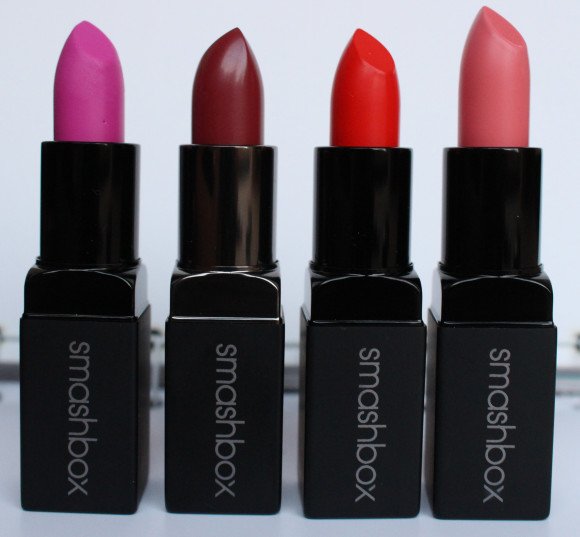 Next we have the stunning Smashbox Be Legendary Lipsticks (R250), Smashbox have launched 6 new must-have shades in ultra-luxe matte… Paris Pink Matte, Mauve Matte, Femme Fatale Matte, Fireball Matte, Punch Drunk Matte, Magenta Matte, Mulberry, Shock Me Pinks.
Four of which I received to try out (and fall in love with)- Left to right: Magenta Matte, Mulberry Matte, Fireball Matte, Paris Pink Matte.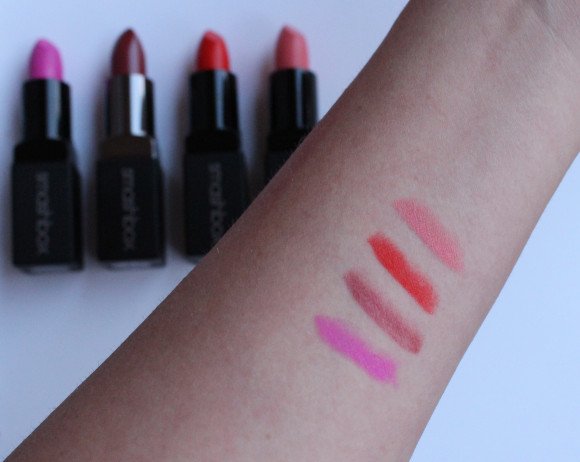 Smashbox Be Legendary Lipsticks are immensley moisturising and are loaded with vitamins and antioxidants which nourish and protect your lips. Thanks to upgraded adherence power these shine-fresh lippies last all day long and the pigment is fantastic. At no point during the day does ones lips feel dry or uncomfortable yet the colour stays put.
Bronze Lights is an ultra fine bronzer which never appears muddy or orange thanks to a photoset mineral complex. I have been searching for a good bronzer for ages now. I loved one from clinique for many years but now I find the shimmer specks are too much. I picked up a self-adjusting bronzer from Stila last year (review over here) which I really liked but I still wanted something "brighter" so when I applied this is was like YAY! Finally! It applies easily, doesn't smudge and really doesn't appear muddy at all which is especially important on very fair ladies like myself.
Smashbox's best-selling CC cream is now available in a concealer, 24hr CC Spot Concealer (R320) which is a budge-proof spot concealer instantly color corrects and hides imperfections, while visibly fading dark spots over time. Spots are camouflaged for "a full 24 hours thanks to Photoset Polymers created with medical-grade liquid bandage technology that adhere to and bend with skin". This is such a nifty concealer and it is also transfer-proof, waterproof as well as sweat and humidity-resistant. I received both shades – Dark and Light Medium. Light Medium applies so evenly over my skin that I can even go without foundation after using it on the problem areas. Use the micro-precision applicator and apply a tiny bit to the spot. Wait 5-10 seconds. Tap to blend. I once watched Gigi Hadid's makeup artist show a Youtube tutorial on how to get young glowing skin. You want to only spot treat the problem areas with a good solid concealer (like this one) then once those are covered just use a BB cream over or a light breathable foundation. You don't want to trap and cover the entire face unnecessarily when it's just one or two problem spots.
LA Lights Blendable Lip and Cheek Colour (R320) are multi-purpose creamy sticks which glide onto the skin for a luminous, lit-from-within flush of colour. The double-ended component features a built-in buffing sponge for blending, so color is always evenly diffused—never streaky.
It comes in 4 gorgeous shades- Hollywood & Highlight, Beverly Hills Blush, Venice Beach Bronze, Silver Lake Sunset, Malibu Berry I received three of these shades from Left to Right: Venice Beach Bronze, Beverly Hills Beach and Silver Lake Sunset.
Smashbox is available at selected Woolworths, Foschini, Edgars and Red Square stores. Oh and p.s to all my eco-conscious readers Smashbox is also Cruelty Free and Vegan.