L'Occitane have released another spectacular limited edition line and this one ties in perfectly with Valentines Day. The beautiful fresh cherry blossoms intertwined with feminine white florals makes Fleurs de Cerisier the ideal romantic fragrance to give as a gift to your special lady or to of course treat yourself with.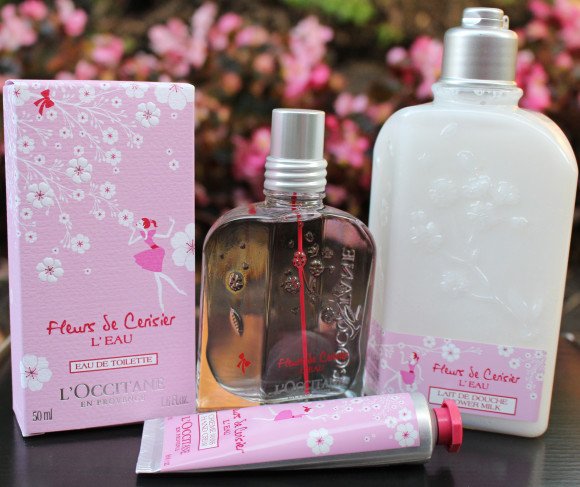 I received the Fleurs de Cerisier L'Eau Eau de Toilette (R560 for 50ml) is an absolutely exquisite fragrance and is a perfectly balanced floral scent. It is a delicate feminine perfume and the delicate cherry blossom notes last throughout the day.
I also received a Fleurs de Cersier L'Eau shower milk (R230 for 250ml and R135 for 75ml) and absolutely adore just how luxurious L'Occitane's shower milks are. They also leave ones skin lightly fragranced and silky soft.
The delightful hand cream (R120 for 30ml) makes me smile every time that I use it. The fresh floral Cherry Blossom scent is fairly strong and lasts on my hands for several hours. It is also highly moisturising and you all know what a fan I am of L'Occitane's hand creams.
Also forming a part of this Limited edition range is a Moisturising Body Milk (R370 for 250ml and R135 for 75ml).
The Fleurs de Cerisier limited edition range is available online and in stores. Also be sure to check out their other current limited edition range if you are more of a fan of zesty fragrances- Frisson Verbena (review over here).