I am very excited to have received the 9th Secret Box from Retail Box. Every time they release a new one I eagerly try to get my hands on it. Retail Box tend to leave hints on their social media pages (Twitter and Facebook) of when they may be releasing a new one and then when it is launched there is always a mad rush to secure one for yourself. These are in high demand and for good reason!
There are still quite a few boxes available over here and I can finally share with you guys what was inside Secret Box number 9…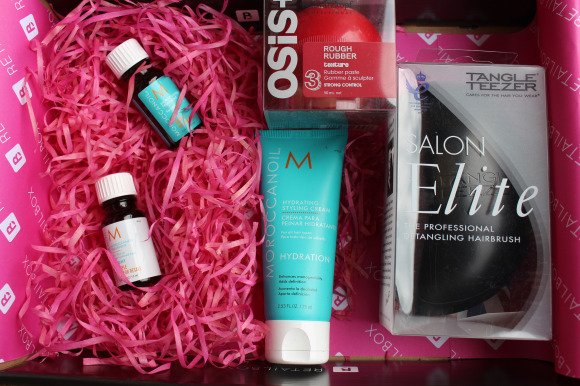 This Secret Box retails for R149 and the contents inside are worth over R500. Definitely well worth it in my opinion.
Inside the box you will find:
Tangle Teezer Elite-  R230 : The one I received was black and I was more than happy to add another Tangler Teezer to my collection. I already have the Pink one and the cute Flower Pot version. I carry one with me everywhere I go and they have transformed the way I use brushes. Everyone should own one of these and even more so if you have long hair. I have in the past reviewed the Tangle Teezer which you can read over here.
Schwarzkopf Rough Rubber- R280 : This is also a full size item. At first I thought "What on earth is this", I had never seen the Rough Rubber and the name sounded um, rather dodgy. Schwarzkopf Professional OSiS+ Rough Rubber is a revolutionary rubber paste that can be used to create roughed-up natural locks. Leaves a rough, mould-able texture with a strong matte effect and has a strong style control. I have yet to use this but am excited to try it out soon.
Moroccanoil Restorative Mask (Travel Size) : Moroccanoil Restorative Hair Mask is really good and probably my favorite Moroccanoil product as it actually does help give life back into ones hair. I tend to use this once every two weeks or so and find a small bit on the mid-lengths to ends is all that is needed. My tub has lasted me over 6 months so the R445 for 250ml price tag is well worth it.
Moroccan Treatment Oil (Sample size) and the Light version (Sample Size) : The famous much hyped about hair oil that pretty much revived the use of hair oils. For many years we steered clear of hair oil for fear of looking greasy but when everyone from celebs to beauty editors started raving about this incredible treatment oil the demand for hair oils rose and they show no decline any time soon. Moroccan Treatment Oil is still at the top of the pack and rightly so. I personally prefer the Light version and a small drop is enough to add shine and moisture to all of my hair. I have thick hair but fine strands so this works perfectly.