L'Occitane have a new limited edition fragrance out for summer- Frisson Verbena is an extremely crisp, fresh scent that is both cooling and invigorating. Imagine walking through a beautiful valley under the dappled shade of the trees, in your hand you hold a bunch of gently crushed verbena leaves as you near the river the air feels cooler and crisper. The smell is strong but clean and you feel relaxed as you are transported into this vision. That is exactly how I feel when I use this range. The Lemon Verbena is incredibly prevalent but so is the natural spring water extract. A perfect balance.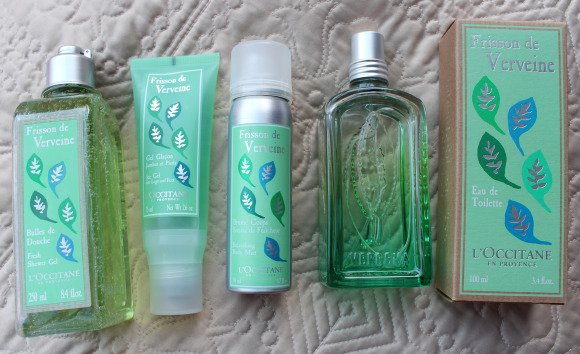 Frisson Verbena Eau de Toilette (R740 for 100ml) is the ideal scent for those craving a crisp citrus scent over floral fragrances. It is the epitome of a clean vibrant aqueous scent with top notes of lemon and bergamot and a heart of cucumber and verbena.
I also received the super useful Refreshing Body Mist (R160 for 50ml). It is alcohol-free mist which intensely refreshes your skin and helps to maintain its hydration level. The lightweight container means it is the ideal size to carry in your handbag and/or to take with you for travelling.
I have been using the Shower Gel (R90 for 75ml) each morning the past two weeks because thanks to the scorching heat we have been experiencing an icy cold shower with a fresh zesty shower gel is just about the only thing to invigorate and wake one up.
One of my favourites from this range has to be the Cooling Foot Gel (R250 for 75ml). This is so perfect for summer and really works. I have been generously applying it each evening after work and am so impressed with the effect it actually has on reducing swelling.
Thanks to the metal rolling tip if you keep this in the fridge or pop t in the freezer for a few minutes before use the cooling effect helps to speed up swelling reduction and obviously it feels amazing to apply.
Also in the collection there is a cooling body gel, bath salts and hand cream which are all available in store and online.
Thank you L'Occitane for introducing me to another superb collection. Ladies (and gents) it is best to stock up as this range is a limited edition.