It's time for some more unflattering shots as I take you through the next stage of my Jaw-Defining Journey, my quest to create a more defined jawline and less noticeable double chin. It has been a long process with the results only truly visible in the next 2 months as the final set of treatments take effect but for now let me take you through the past two months. If you want to catch up then read Part 1 here and Part 2 over here.
I truly am so happy to be working with Skin Renewal on this journey as they are leaders in the cosmetic field in South Africa. I am in the safe hands of Dr Andre Truter at the Skin Renewal Stellenbosch branch and he has guided me through every step of the way.
I will admit that my first treatment of Lipodissolve was probably the worst of the entire journey and when I went for my second treatment the after-effects weren't nearly as uncomfortable. This was partly because most of the fat pad had by now disappeared.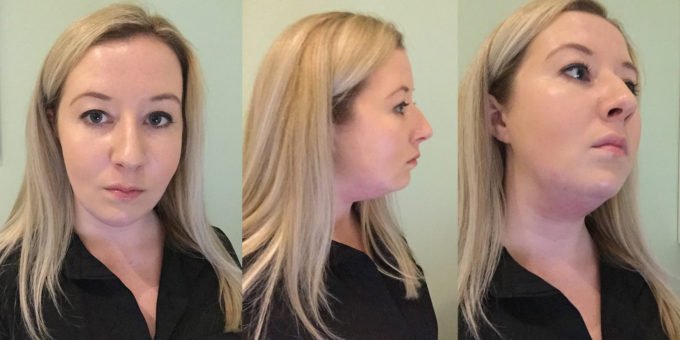 As you can see the images above were taken just after having my Lipodissolve injections and a Velashape treatment. The area did swell a bit but this was only noticeable from the side.
A week after I was sitting in my car and suddenly noticed how much more defined my jawline was and how the fat pad wasn't noticeable at all but just some of the now sagging skin was. Below are some shots I quickly took from all angles.
The Velashape has definitely helped too as my jawline was noticeable right around. I felt really excited when I saw these results because I could see that the process was truly working!
After another consultation with Dr Truter, he agreed that no more Lipodissolve injections would be required and it was time to work on tightening the skin. He prescribed a treatment called Titan XL.
Titan uses light and radiofrequency energy which is used to heat deeper layers of the skin while protecting the surface of the skin. This heating activates fibroblasts, causing new collagen to form and existing collagen to tighten over time. The most common areas treated are the face and neck, resulting in firmer, tighter, and lifted jowls, cheeks, neck and eye area.
The Titan® utilizes a pulsed broadband infrared source of 850 – 3000 nm. The tightening effects of Titan are immediate but the best results come down the line, when the effects of collagen production become evident. Titan's light-based platform provides a more uniform distribution of energy for heating the deep dermis than other energy sources, such as RF (radio-frequency).
Dr Truter recommended three treatments spaced 1 month apart. I had my first one a month ago and was warned that there would be discomfort. They had prescribed 100 "shots" with each shot delivering about a split second of pain. The pain isn't actually all that bad but you can't help but twitch. The therapist who was delivering the treatment was very caring and turned down the intensity when it got a bit too much. However, they do say "no pain, no gain" and wow the Titan is incredible. The below shots were taken just after my second treatment, hence the lovely tidemark of where my makeup had been removed. However, I wanted to show how little redness there was and how incredible it looks already with no makeup or contouring.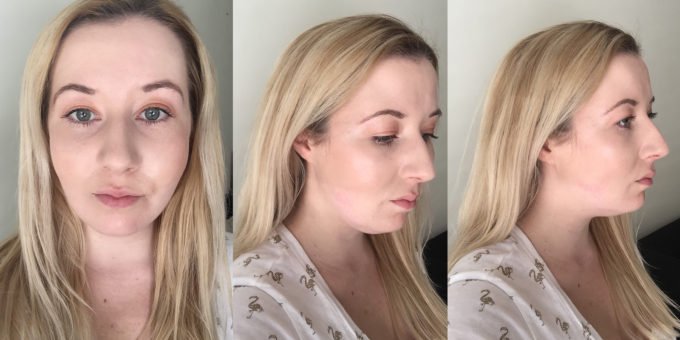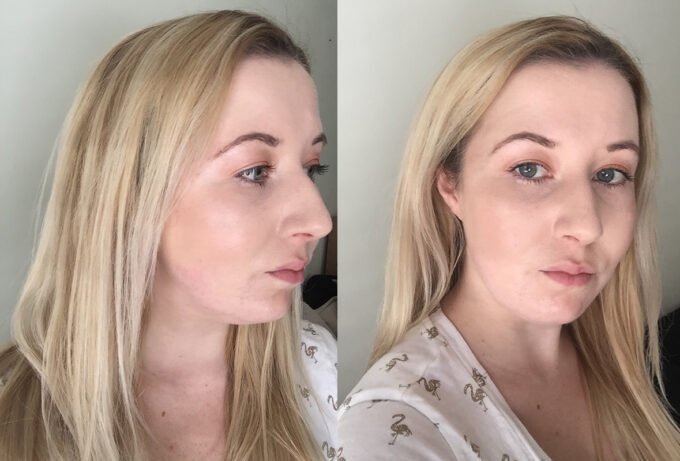 I have one more Titan treatment scheduled for the middle of November and will show you the final results towards the end of November. As you can see though the treatments are definitely working and I'm so grateful to know that there are effective, non-invasive treatments for problems like a double chin. If you have a problem area that affects you confidence or is just something you'd like to have fixed then visit a Skin Renewal branch. They will guide you through the possible treatments available.