So I had my first round of treatments at Skin Renewal Stellenbosch and am finally ready to write about the experience, the pain level and all the nitty-gritty details that are often hard to find online. If I am doing something I want to know everything, I scour forums and see if symptoms are normal etc. I was relieved to find that the team at Skin Renewal happily answered all my questions and followed up after the treatment. If you want to know more about this process and what I'm having done then please read my first blog post over here. This post also includes the "Before" shots.
My Lipodissolve Experience: I was slightly nervous about the injection part but Doctor Andre Truter was patient and re-assuring. After disinfecting the chin area, he then felt where the hard fat pad was and made marks with a marker. He injected the area about four or five times. It turns out the injection part is not as painful as it seems and it only slightly stings as the liquid is released but he massaged the area afterwards and applied a cooling cream which helped reduce any discomfort. Skin Renewal recommends that you have a shaping laser treatment after Lipodissolve to help speed up the absorption and break down the fat cells easily. It also helps diminish the swelling and bruising. I must say I had no bruising at all afterwards.
My Velashape Experience: Velashape uses a combination of Radio frequency and infra-red light (elks™) which aids in new collagen remodeling to tighten sagging and lax skin especially on the neck. Also lymphatic drainage is increased making it ideal to help with the drainage after a Lipodissolve treatment. It kind-of feels like when you put a vacuum cleaner against your skin as it massages the area and heats up to between 39-41 degrees. It is not uncomfortable at all and is actually quite a relaxing treatment. I had the Velashape done for 25 minutes and almost fell asleep!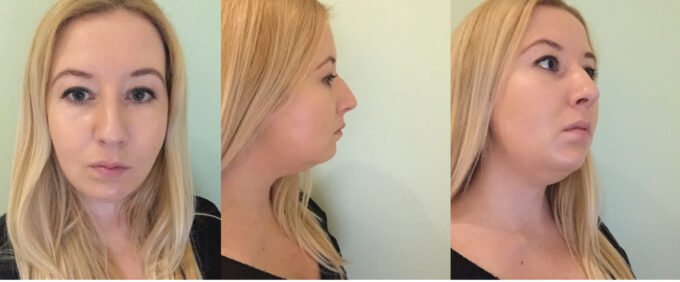 The above shots are after Day 1 and straight after my first set of treatments. The area felt quite hot after the Velashape and a little tender where the injections had been done but I went straight back to work and no one noticed anything. I felt like my jawline from straight on looked a bit more defined but that was most likely due to the lymphatic drainage effect from the Velashape.
As the day went on the area felt a little more swollen though and when I woke up the next day I panicked. It felt like I had a hard swollen golf ball under my chin! The area was extremely hot and slightly itchy. All of this is normal though and everyones body responds differently to the treatment. Mine was ready to blast those fat cells it seems. On recommendation from the Skin Renewal team I relaxed feeling re-assured that this was a normal reaction and iced the area. I must highlight that it is VERY important to increase your water intake the days after having the Lipodissolve treatment done. I added on another 2 Litres to my usual 8 glasses and my body craved it. Since part of the process is your body absorbing the destroyed fat cells and excreting them you need to make sure you speed that up by consuming water. If I went too long without a glass I felt achy. Day 2 was similar to Day 1 and the area still felt rock hard.
By Day 3 it started to feel less tender and the swelling diminished a bit. By Day 4 (see pics below) I was feeling fine again and there was no heat or discomfort but the fat pad felt so hard still although slightly smaller.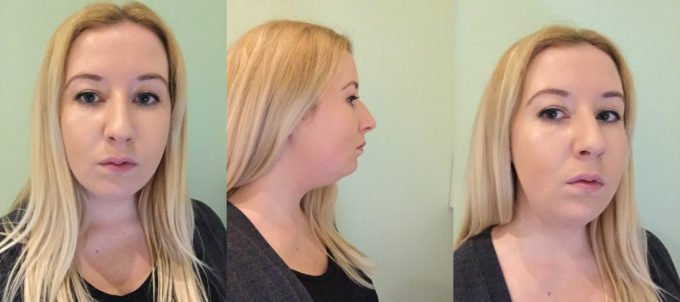 By Day 7 I reached for something and as I looked down I noticed that I didn't have that awful suffocating feeling of the fat pad obstructing me. It is a strange thing to explain but I was so used to this solid lump under my chin and then the last few days I'd had this hard ball there and all of sudden both were gone. The fat pad felt non-existent!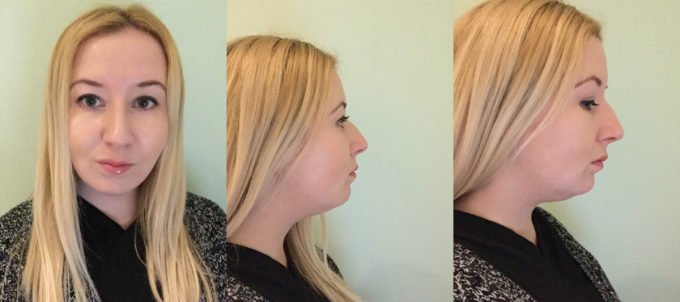 I'd also received a few comments about how my jawline was looking more defined. I know it has only been one treatment but I am so impressed at how that hard little fat pad that has been there for years and years is suddenly gone. The skin needs plenty more tightening now that the weight of the fat pad has diminished and I still need more Lipodissolve treatments to eliminate the remaining fat pad but to my touch that stubborn part has gone so I'm feeling confident that this process will be a successful one. If you look at the Day 7 shots above I included one where I'm looking down, you can still see the double chin is there but you can see how much more defined the chin and jawline area is already after 1 treatment.
If this jaw-defining journey interests you, I'll still be posting a middle-mark blog post and a final results post so keep an eye out for those!