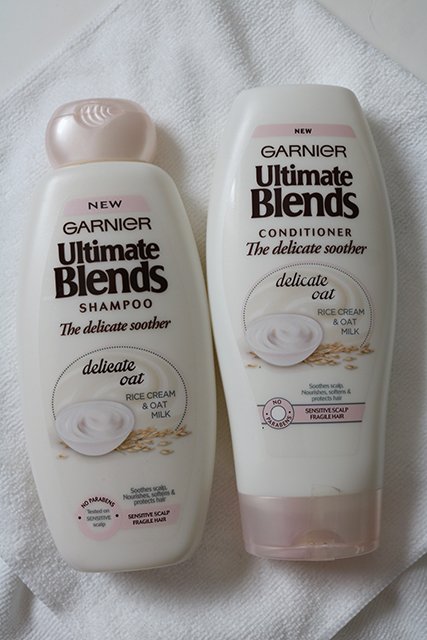 I have had quite a number of readers contact me asking for recommendations for a shampoo/conditioner that is suitable for fine hair and is reasonably priced. I finally have the answer: Garnier Ultimate Blends "The Delicate Soother". If you've read my review on the other Garnier Ultimate Blends product available locally then you'll know how fond I am of their red Colour Illuminator variation. So whenever they launch a new product into the line I'm always eager to try it. The Delicate Soother did not disappoint. It's designed for those with sensitive scalps and fine, fragile hair.
Enriched with Rice Cream and Oat Milk it helps to soothe the scalp and nourish,soften and protect the hair. A total plus is that is contains No Parabens.
I sometimes get itchy, irritated areas on my scalp from using heated tools too frequently and after only a couple of uses of this duo the itching subsided. It also leaves my hair silky soft, in fact at times too soft as I can't wear my hair up in a ponytail after washing with it! I do see that in the UK they also have a mask and a Delicate Soother Heat Protection Milk in the range which I hope will form part of the SA range too as I'd love to try both.
I'm overall a fan of this shampoo/conditioner duo and highly recommend it.
*This is a new launch and was included in my goodie bag at the rained out launch so I don't have details on the pricing yet but should be similar to the other products in the range. See previous review here.