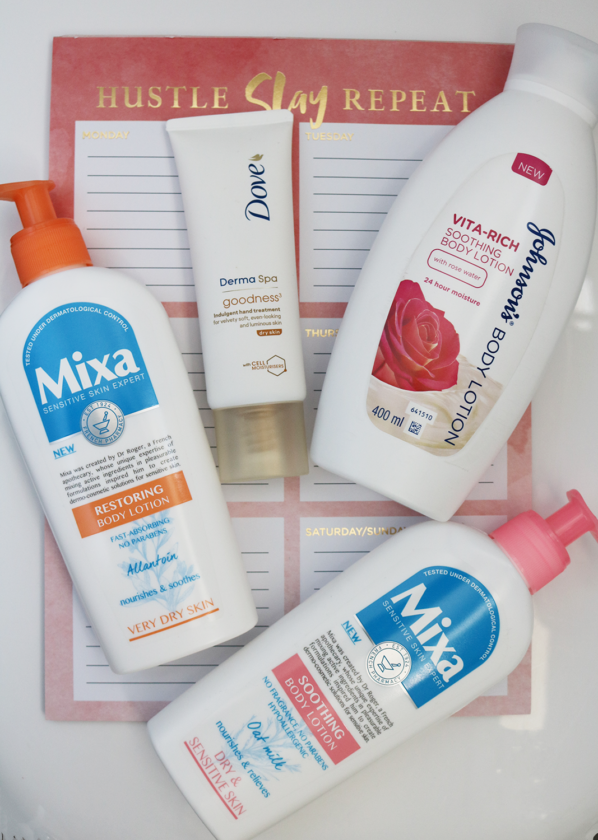 Yes, more lotions except all of these are on the more affordable side of the scale and yes they are just as moisturising. I know I said "body lotions" but I had to include the new Dove DermaSpa Indulgent Hand treatment which at R50 for 75ml is not bad at all. Also, this hand cream has been incredible at well and truly nourishing dry areas. I use it on my knees and feet and of course on my hands. If you have any tears or extremely dry damaged skin then I'd still recommend the MIXA Cica Crem as it is a repair balm.
Speaking of MIXA, I cannot stop talking about this range. I've reviewed it here and also spoken about it here. So it had to be featured in this post. At R45 (and on special at Takealot for R33), it is unbelievably well-priced for such an amazing product.
Finally, we have the New Johnson's Vita-Rich Body Lotion with Rose Water. Perhaps it is the rose scent that won me over but wow if you didn't tell me the brand I would have guessed it's price point to be around the R200-R300 mark and yet it's R42 for 400ml! Enriched with shea butter and infused with rose water it feels lovely on the skin and the rose isn't over-powering or artificial in any way.
Disclosure Ranking: 2