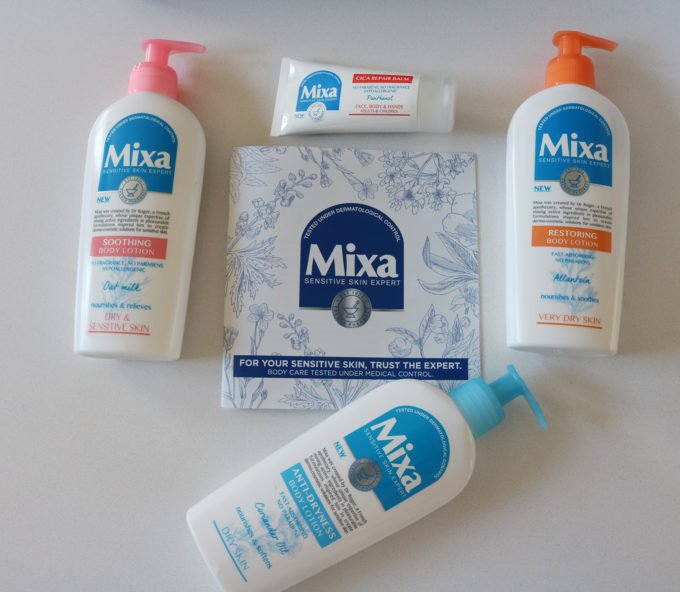 I've been using these products for a month already and realised I hadn't actually done a proper review on them! Mixa was created in a French pharmacy in 1924 and was inspired by traditional apothecary ingredients. The formulas are created with sensitive skins in mind and the full range is tested under medical control. The name comes from the special mixing technique that founder and pharmacist Dr Roger used in his laboratory to blend cream with traditional apothecary ingredients when preparing a caring ointment for severely dry, rough hands.
At the moment Locally, only a selection of body care products are available but hopefully the full range will be available as more and more people become aware of this amazing range. The price points are incredible too. The lotions start at R45,95 for 250ml, the body cream tubs are R65,95 and the Cica Repair Balm is R79,95.
There are three types of body lotion:
Anti-dryness for dry skin, Restoring body lotion for very dry skin and soothing body lotion for dry and sensitive skin types.
All Mixa products are 100% paraben free and any scents come from the ingredients themselves. I personally love the Anti-Dryness lotion which contains Coriander Oil to maintain hydration. I know that I'll probably be reaching for the Restoring one this winter, which has added allantoin. Allantoin is repairing, regenerative, moisturising and soothing. It's also perfectly suitable for sensitive skincare. The hypoallergenic Soothing body lotion is enriched with oat milk and leaves the skin nourished and soothed.
The Cica Repair Balm which can be used on the face, body and hands is a targeted repairing balm which helps with severe dryness, micro-cracks in the hands, shedding and localised discomforts.
Mixa will be available at all major retailers. I know that Pick 'n Pay and Takealot both currently have stock but it'll soon be at all other major retailers soon.
Disclosure Ranking: 2