I was beyond thrilled when I was contacted by Waterpik and asked if I would be interested in a trade exchange. Owning a Water Flosser has been on my wishlist for years but I knew that I'd only want the best which is Waterpik. So what is a water flosser and how can it make a difference to your dental hygiene, also is it worth the price tag if you already have a good quality expensive electric toothbrush?
The Waterpik Water Flosser is an easy and more effective alternative to string floss. Clinical studies show that the Water Flosser is up to: 51% more effective than dental floss for reducing gingivitis. 2X as effective as dental floss at reducing gingival bleeding. Water flossing for one minute before brushing easily removes bacteria and debris from hard-to-reach areas deep between teeth and below the gumline where traditional brushing and flossing can't reach. The patented pulsating, massaging action increases circulation and gum health. I've always used dental floss and an electric toothbrush, however every time I visit my oral hygienist she points out that the back on my lower front teeth have some plaque buildup and this is because it isn't the easiest place to reach. Since using the water flosser I can already feel less plaque buildup. Proven in laboratory tests to remove up to 99.9% of plaque from treated areas in three seconds.
I selected the portable Waterpik flosser in black and the convenient travel case, since I was heading on holiday. I couldn't believe how comfortable and easy it was to use. Also flossing no longer felt like a chore!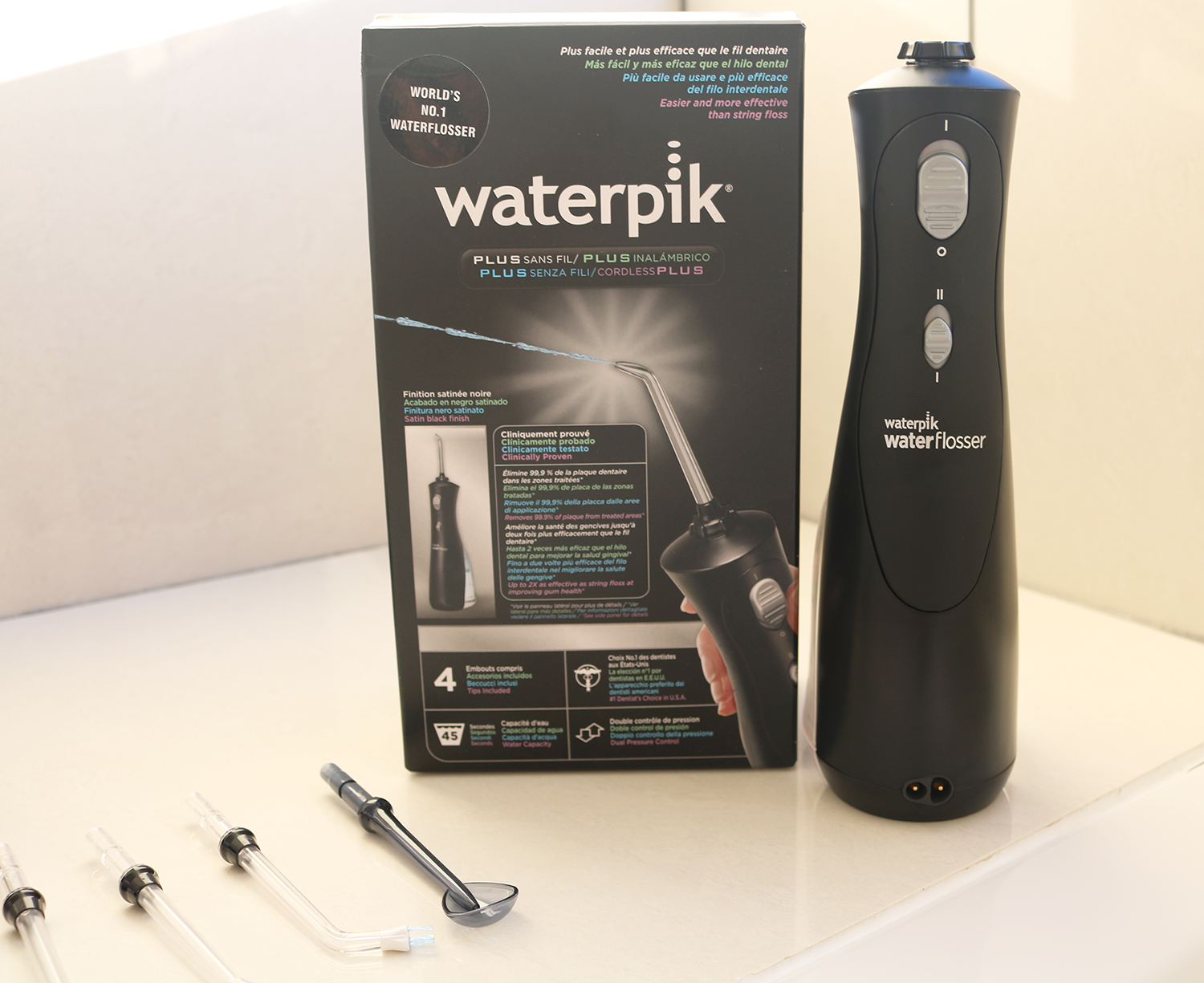 The WP-462 Cordless Plus Black water flosser (R1299) with its satin finish takes up little space and include four unique tips:
Classic Jet tip – general use.
Plaque Seeker tip – best for implants, crowns, veneers and bridges and removes plaque in hard-to-reach areas.
Orthodontic tip – ideal for braces and is 3x as effective as floss for removing plaque around orthodontic appliances.
Tongue cleaner – removes bacteria from the tongue to freshen breath.
For more information on the range and benefits of using a Waterpik water flosser you can visit their website here and shop online from Takealot.