Earlier this year I was flown up to Johannesburg for the launch of a truly inspiring, effective and overall faultless haircare range. Authentic Beauty Concept launched this month but since I've been using the products for a while now, in fact I am almost out of the shampoo and conditioner, I am finally able to share this brand with you!
Inspired by a collective of hairdressers, artisans and people who share the same values, Henkel's new hair brand, Authentic Beauty Concept, was recently launched to the South African professional market.
Authentic Beauty Concept products are free from silicones, sulfates surfactants, parabens, mineral oil and artificial colorants.
"Instead, we utilise more powerful vegan ingredients. Our products are carefully selected and combined, what we leave out is just as important as what we put in. The brand is positioned as a high performance, vegan, cruelty-free range. We are extremely aware of our eco footprint so all bottles and jars are fully recyclable."

There are several ranges:
Glow (pink packaging) is a range for colour treated hair. It contains date & cinnamon extract. It works to lock in colour and give hair brilliant shine. In Glow you'll find a cleanser, conditioner, mask & essence.
Amplify (green packaging) is for fine hair and contains a green tea extract. In Amplify you'll find a cleanser, conditioner & spray conditioner.
Hydrate (blue packaging) is for dry hair. The range is enriched with mango – an antioxidant, and basil – renowned for its soothing & purifying properties. In Hydrate you'll find a cleanser, conditioner, cleansing conditioner, spray conditioner, mask, lotion & Essence. After a hair analysis I was recommended the Hydrate shampoo (R380) and conditioner (R410). Since my hair is in a fairly good condition thanks to my fabulous hairdresser, this range is moisturising but also purifying, keeping my hair soft and scalp clean.
Replenish (yellow packaging) is especially created for damaged hair. This replenishing range contains extracts of maple & pecan that restores shine while nourishing the hair. In Replenish you'll find a cleanser, conditioner, spray conditioner, mask, essence and a balm. I have to mention that ALL of the ranges have the most divine scents and no other word can be used to describe them other than "delicious".
The Replenish range's fragrance was just so yummy that we decided to go for it in a mask form rather than stick to the Hydrate range. The Replenish mask (R500) is best suited for damaged hair but it works wonders on my knots too. For some reason I've been experiencing a knot in the same spot that even my Tangle Teezer battles with. This helps to keep my hair sleek and reduces tangles. I use it three times a month and mostly from the mid-lengths down to the tip.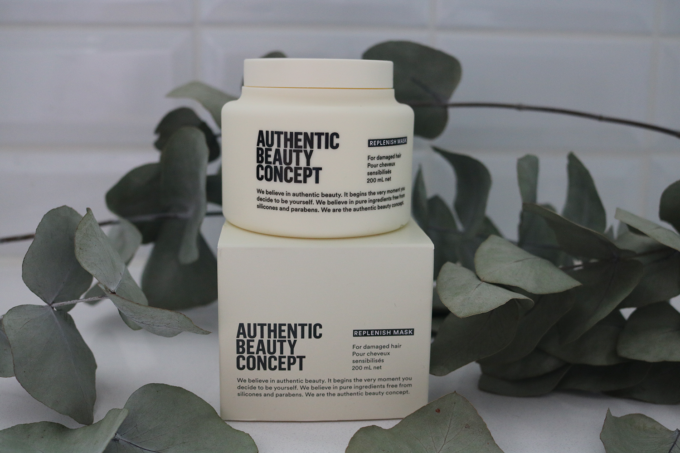 Authentic Beauty Concept brand advocates include Gary Rom of Gary Rom Hairdressing and Marios Atzemoglou of Marios Company Hair in Cape Town.
* All of their formulas are vegan, aside from the Gritty Wax Paste & Shaping Cream, which contain Beeswax, and Amplify Mousse, which contains Chitosan. They do however aim to be vegan in these three formulas by the end of 2019.
** sulfate surfactants