I absolutely love discovering new and fun hair care products. TIGI have taken 4 of their most iconic products and updated them up to create 4 new Bed Head styling icons.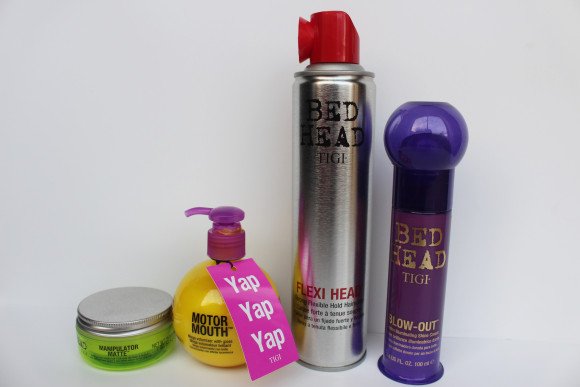 Manipulator Matte- This is great for creating texture. For short hair this is ideal if you want to create shape and texture, I gave this one to my BF after first trying it for myself. He liked that the shape looks very natural and that it is still quite malleable. The matte finish looks especially good on short hair. I tried it on my long hair to create volume and definition, after curling my hair I used a tiny amount to hold the look.
Motor Mouth- Is my personal favourite from the bunch and I feel like I need to use this each and every time that I style my hair now. It creates tons of volume (which I love) whilst remaining lightweight. An added quirk is that it gives your hair extra shine and will even glow under UV lights! Literally your hair will glow in the dark with this stuff so be aware of how much you are using and just how much you want to stand out before hitting the clubs.
Flexi Head- Flexi Head is a build-able spray. I am often afraid to use hair spray as I don't want it to set too hard or too stiff. With Flexi Head you have more control and can easily brush through and start again should you happen to mess up or change your mind on a style.
Blow-Out- Helps to tame fly-always and frizz. It also contains a pretty gold shimmer to give your hair that something extra! A little bit goes a long way and this is perfect for after you've style your hair and want to keep it looking it's best. I find myself reaching for Blow-Out over my silicon sprays as hair looks healthier after applying this than with the silicon.