After plenty of time outdoors enjoying the sunny weather most of us have achieved somewhat of a tan and as we all want Summer to last we tend to hold on to our tans for as long as possible. Nothing wrong with that except that is no excuse to skip on exfoliation. Getting rid of dead skin cells is what makes ones skin truly glow and look healthy. The following four are my go-to scrubs this season…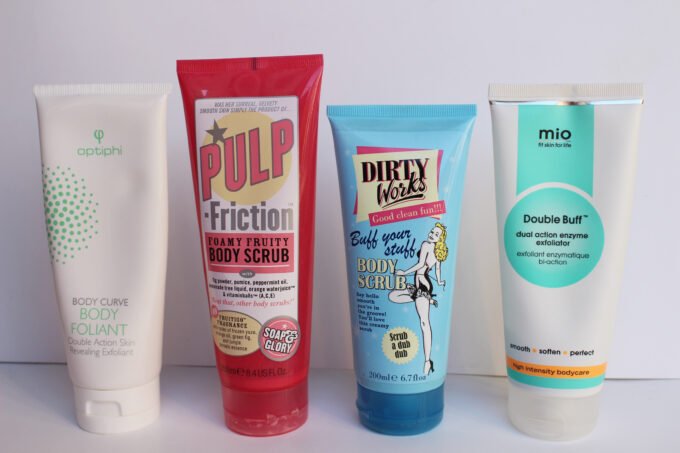 These scrubs I use often so they may look a little messy because they are straight out of my shower not straight out of a box!
– First we have the Optiphi Body-Foliant (R625) I have previously reviewed this gem over here. It ranks as my number one body exfoliant and offers both a chemical and enzymatic body exfoliation which is gentle and restorative.
– Soap & Glory Pulp Friction is a lovely more gritty exfoliator and really gets rid of dead skin cells quickly. It isn't available in SA sadly but is fantastic for exfoliating ones back and feet. Areas which usually require extra exfoliation.
– Dirty Works Buff Your Stuff (R39) is available from Clicks and is Soap and Glory's cheaper "copycat" also more of a pumice cream effect. It also smells delicious!
– Mio Double Buff (R500) another winning enzyme exfoliant. One which I too have reviewed previously but feel that it is definitely deserving of the spotlight once more. It contains micro-ground pumice, lava and bamboo which is blended with fruit enzymes and is an incredibly fine formula that prevents skin damage.