I use and review so many great products but haven't really done a post about which products I feel are ideal for specific skin types. I get tons of tweets and messages asking about the best xyz for oily skin etc so thought why not compile a small selection of products that are best suited for each skin type. Starting with Oily Skin…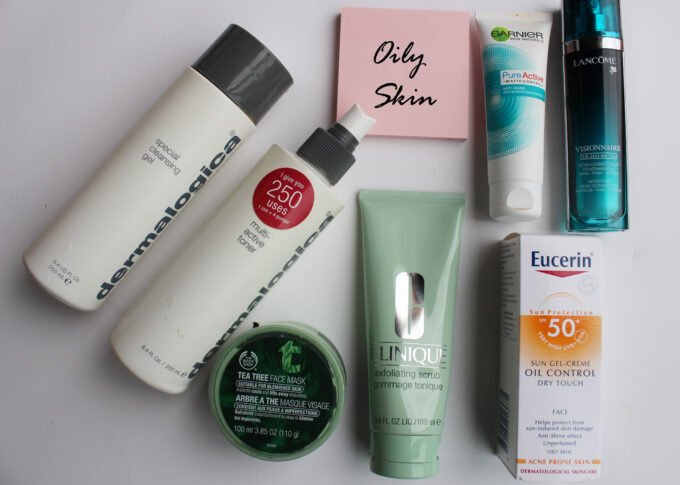 – The Body shop Tea Tree mask is one of my go-to masks and has even been featured in my Fav Masks video. It says for blemished skin and yes it certainly does help with breakouts but I find that it works well if used on a semi-regular basis to combat oiliness and therefore prevent breakouts too.
– Scrubs are good for oily skin but don't use it too often. I use this one from Clinique and find that a tube lasts me well over 6 months.
– Dermalogica Special Cleansing Gel is amazing for oily skin. Your skin feels completely clean but not stripped of moisture.
– A toner is a must for oily skin however, far too many people still use toners that contain alcohol. This is a major no-no and I find that Dermalogica's Multi Active toner works wonderfully.
– Next we have the NB. A suncreen is important for everyone but it is often hard to find one that is suitable for oily skin. The Eucerin SPF Sun Gel-Creme applies like a dream and controls oil, offering you protection and a mattifying effect.
– You know when you find a product that works so well that it surprises you? Well that is how I felt about the Garnier Pure Active moisturiser. It is so perfect for oily skins and the mattifying effect lasts all day long.
– Lastly, the ideal serum that won't clog ones pores or be too rich and leave you looking shiney… Lancome Visionnaire LR 2412 4% – Cx Advanced Skin Corrector . Not only is it quite a mouthful to remember when at the counter but it is the ultimate multi-tasker and helps to reduce the appearance of pores and keep ones T-Zone under control while keeping your skin balanced and refined.
Let me know if you enjoyed reading this type of post? Next week I'll be sharing my top products for pigmentation.