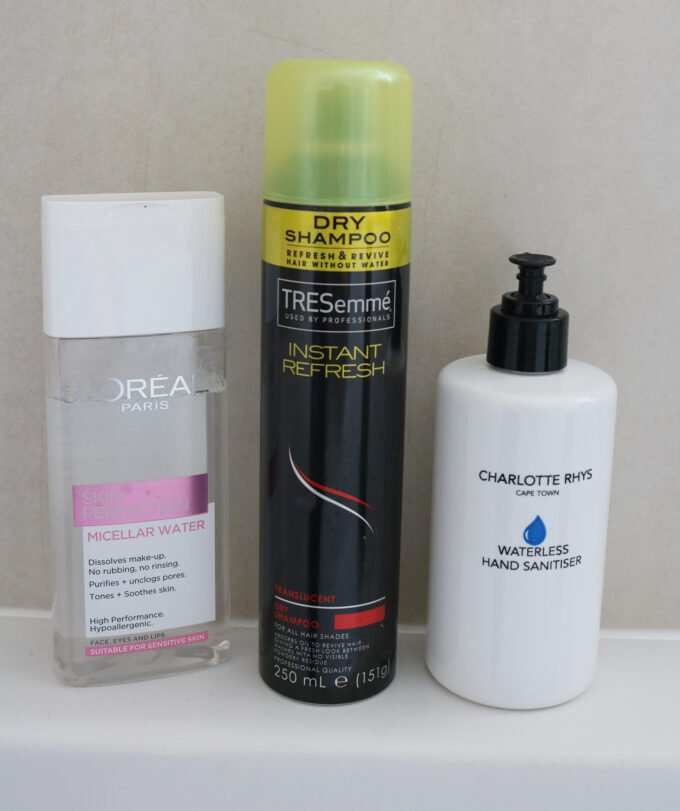 Things are at a critical level as far as the drought and water restrictions are concerned at the moment in Cape Town. Even with showers now and then we are far below the required rainfall and are now at a Level 5 which means each person needs to use less than 87L a day. This means that we need to start looking at our beauty routines differently. I moved into a beautiful apartment with a large bath earlier this year and have still not been able to use it due to water restrictions. Definitely don't think of giving any gifts of Lush bath bombs to any Capetonians. Shower time is also cut in half and water from each shower is re-used in some way or another. Things are serious.
These three beauty products have definitely helped reduce my use of water while still feeling fresh and clean.
– I've mentioned this multi-tasking micellar water from L'Oreal Paris Skin Perfection (R82) before over here and it's fast becoming my go-to. It not only cleanses but also tones and soothes ones skin.
– Dry shampoo not only saves water but also time, therefore it'll always form a part of my beauty arsenal. This one from TRESemmé Instant Refresh Translucent Dry Shampoo (R88.95) is especially good. It soaks up grease, adds volume and doesn't leave my scalp feeling dry and flakey. It is a highly underrated product in my opinion.
– Charlotte Rhys Waterless Hand Sanitiser (R92) is excellent. I NEED to wash my hands at least 50 times a day and to conserve water I try to use a waterless sanitiser majority of the time. It's a nice big 300ml size and only a small pump is required. It leaves my hands feeling clean and most importantly doesn't dry them out. It also has a divine Charlotte Rhys St. Thomas scent to it!