Maybelline didn't even have to tempt me with their Temptation range. Every product is a winner and I don't say that lightly.
Firstly, the blushers are all exquisite and they come in three shades, perfect for highlighting, contouring or adding a bit of colour to the cheeks.
Shade 50 is a Molton Rose Gold and by far the one I've used the most. The formula is top quality with all of the New Master Chrome Metallic highlighters (R269.95). It just felts into one's skin for a naturally luminous effect.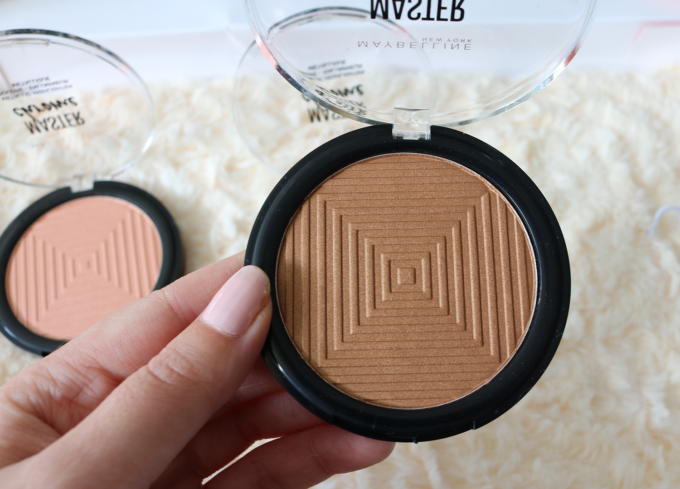 150 Molton Bronze is perfect for contouring and 100 Molton Gold for extra highlighting and illuminating. Great for above the eyelid on the brow bone too.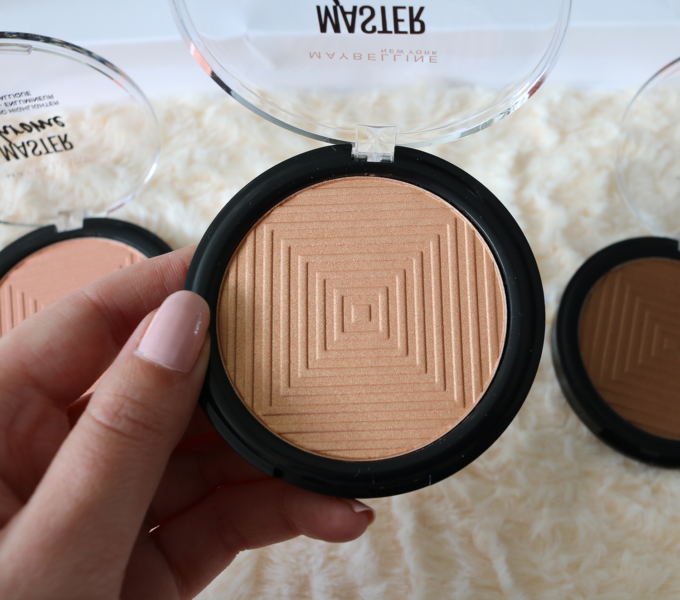 Many people have complained about the "unusual shades" brands are releasing when it comes to lipsticks like green and brown. Do you know how many gorgeous darker skinned ladies I've seen rocking green lips to perfection and brown on brunettes? So many! I've even ventured into greys and purples. Lipstick is about confidence and also an easy way to have fun with your makeup. The Maybelline Limited Edition Color Sensational Powder Matte Lipsticks (R139.95 each) come in 7 shades
Swatches below from left-to-right:
Cruel Ruby, Nocturnal Rose, Smokey Taupe, Chilling Grey, Concrete Jungle, Carnal Brown and Smokey Jade.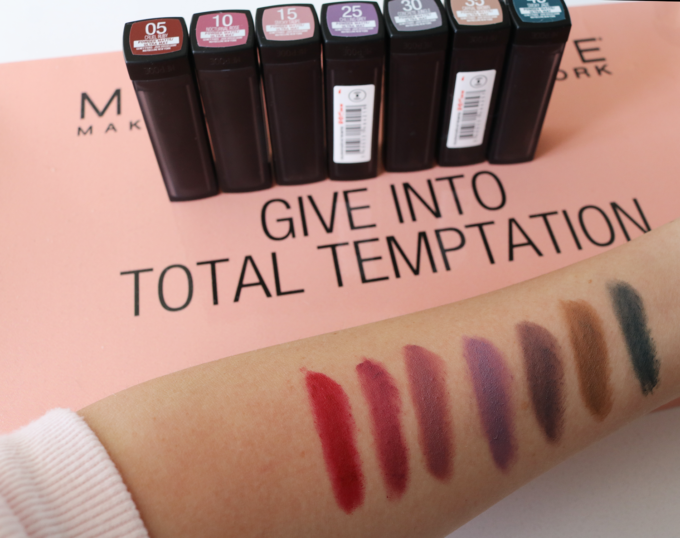 A while back Maybelline sent me several mascaras and asked me to pick my favourite and while they are all good. There has always been one stand-out for me and that is the Maybelline Lash Sensational mascara. In fact aside from an SPF, it would probably be the only other thing I'd take to a desert island with me beauty-wise. I LOVE it. So then, Maybelline really, really tempted me with their new Total Temptation mascara (R159.95).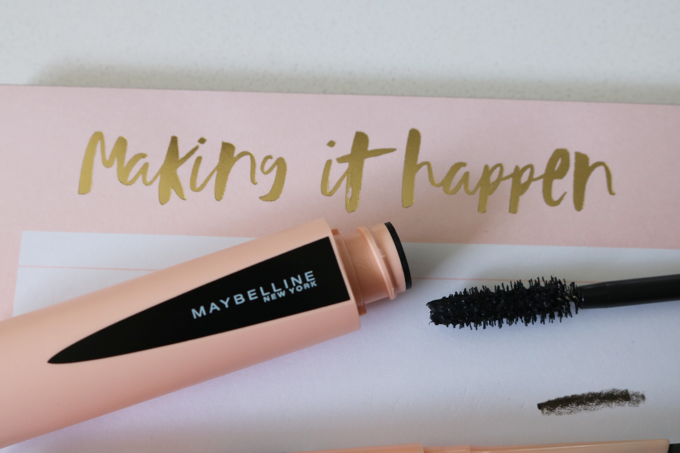 It is a beautiful formula and one that can share the pedestal with my beloved Lash Sensational. The brush is nice and big but easy to handle, the formula is nourishing and you can build and build without any clumps.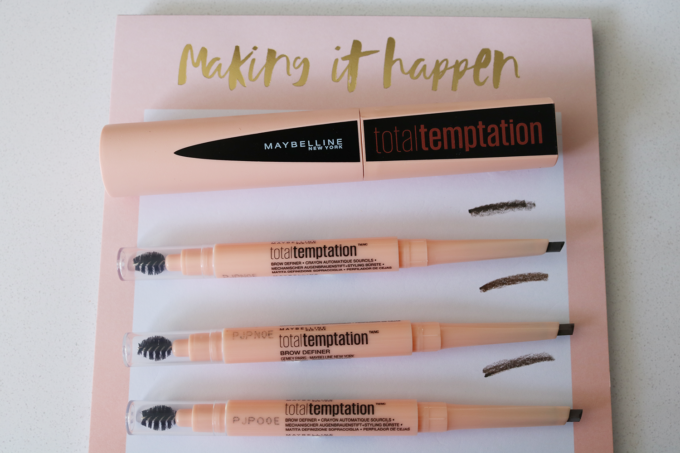 I'd actually spotted the Total Temptation Brow Definer on an overseas blog post and added it to my "Beauty shopping list" on my phone. When my press-drop arrived and I saw all three shades inside I was so happy. At R109.95, this is an absolute bargain for such a high-quality brow pencil. Sadly, it is limited edition so I'll be stocking up. No one else purchase Soft Brown, they're all mine!
Easy to apply and with a perfect fluffy spoolie end. This is such a good brow pencil, I really hope Maybelline keeps it on as a permanent line.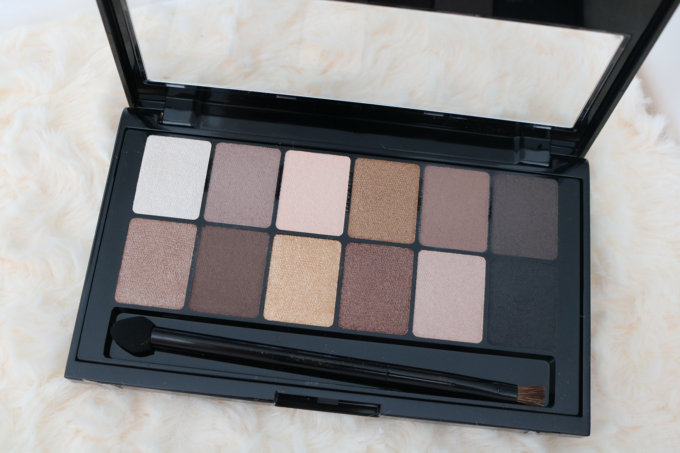 I sure do love nudes, nude eyeshadows that is. The new nudes eyeshadow palette (R260) is the only product in the collection that didn't blow me away but at the same time, they are what they are. 12 curated nude shades, easy to work with and practical. I like that many are matte shades and the ones with shimmer are subtle too.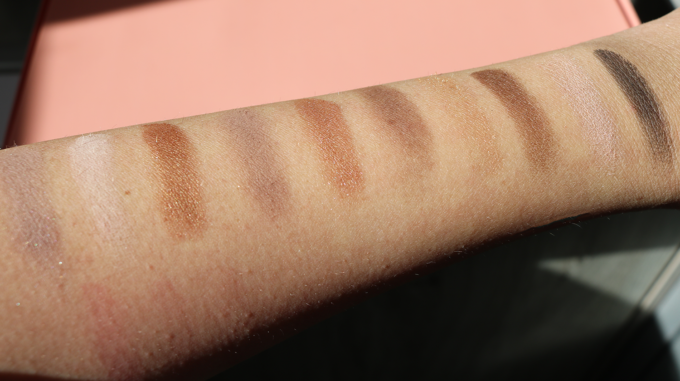 Disclosure Ranking: 2