Last week Maybelline flew a bunch of editors and bloggers up to Johannesburg to celebrate Maybelline turning 100. It was incredible to learn just how influential the brand has been during each and every decade over the past 100 years. We are talking about the brand that invented mascara after all *blonde girls bow down to this brand*. I for one cannot leave the house without mascara even on a "no make-up" day so I have immense love for the brand and was happy to celebrate their milestone in style.
We stayed at the chic Da Vinci hotel which is a monochrome lovers dream. Almost all of the interior is black and white yet still feels extremely inviting. Waiting on the bed was a deceiving little gift bag from Maybelline filled chock-a-block with their latest launches. I can't wait to start reviewing them all.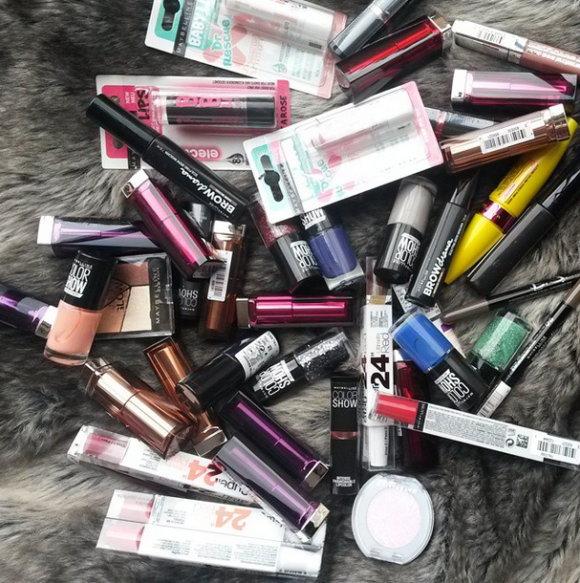 I was fighting an awful flu (which later progressed into a blocked airway infection and bed-rest for the past week) so do excuse the poor quality of the above images, they were all taken on my old Samsung S4 mini as I couldn't bring myself to lug my big DSLR around with me. I wore one of my favourite ASOS chain print dresses and a pleather cropped jacket.
We were then escorted to the party which really was a PARTY! They had gorgeous models dotted around the venue dressed in the different eras looks and each wore the cult beauty product/look which Maybelline had launched during that decade. The lighting made it very difficult to snap any of the looks and the venue properly but we were beyond spoilt with endless drinks, divine food (I'm still dreaming about the Veg Gnocchi), fun entertainment; think jugglers and glitter tattoo artists as well as makeup booths and great music.
Happy 100th Birthday Maybelline and thank you for a fabulous party which I am sure Maybel would of been proud of!