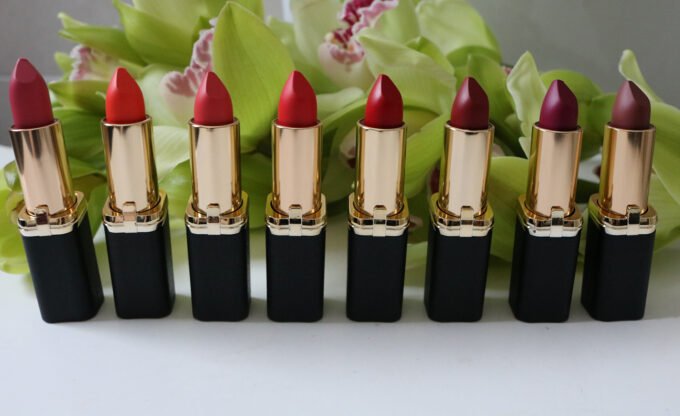 What a line-up right?! I really love when the latest lipstick shades the Color Riche from L'Oreal Paris land on my desk. They are always an instant cheer-me-up and I get "swatching" straight away. The application and colour transfer is excellent and then struggle to wipe the swatches away so I land up with a bit of a lipstick tattoo for the rest of the day. Let's get to the new shades though…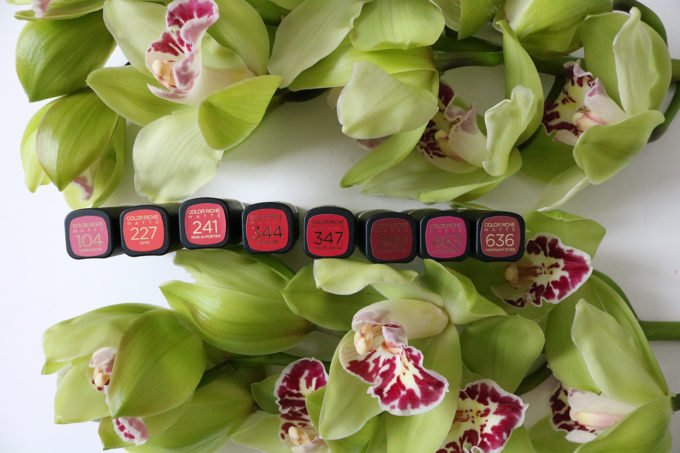 Please note that these are all matte shades but the formula is very creamy and comfortable. They glide onto the lips but also stay put. I've mentioned it before but the L'Oreal Paris Color Riche range is my favourite for when I want a hydrating matte effect that won't rub off easily.
From left-to-right (see below for swatches):
– 104 Strike A Rose is a delicate feminine pink that isn't too precious.
– 227 Hype bright and beautiful what more can I say!
– 241 Pink-A-Porter not my fav pink. This shade just didn't stand out to me.
– 344 Matte Rouge is a confident bold red. Love this one!
– 349 Paris Cherry want to go for a deeper more vampy red shade then this beaut is for you.
– 463 Plum Tuxedo I always overlook plum shades and I really should wear them more often, this one is a regal deep plum and an instant "teeth whitener" type of shade.
– 636 Mahogny Studs want to go even deeper then try Mahogny Studs. It's quite a striking color and definitely for the brave. I love that about the L'Oreal Paris Color Riche line though. There will always be one out-there shade and not only pretty safe colours.