I didn't blog much over the festive period simply because I felt like family-time and relaxation was more important. Many bloggers use the festive time as an easy affiliate-link time to make extra cash as everyone is in a spending mood but I prefer to stay true to myself and if I want to recuperate rather than so be it. L'Oreal sent me a package the week before Christmas, only it wasn't a package for me but rather for me to gift to someone. How clever is that?!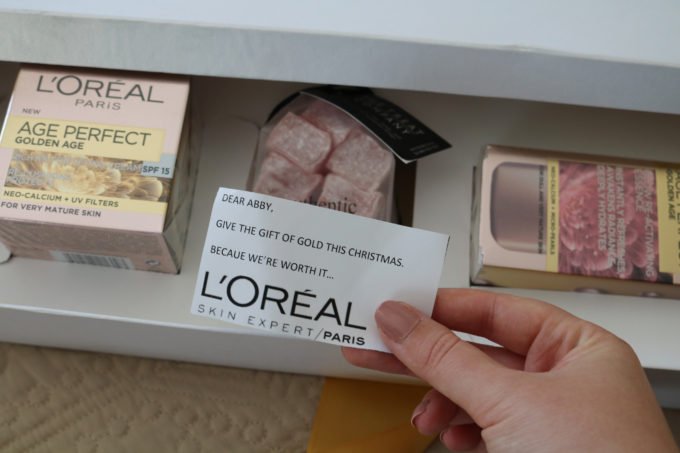 I decided to give the gift to my mum as she falls into the recommended skin age bracket and also she loves L'Oreal products!
L'Oréal Paris understands that as we age, skin becomes more fragile, thinner and less healthy looking which can leave us looking washed out. Fine lines and small blood vessels become more obvious.
This is their first flattering care regime which is specifically formulated for mature skin. It helps to re-cushion thinning and revive dull skin with a healthy-looking rosy glow.
The L'Oreal Perfect Rosy Fluid Golden Age 125ml is R249.95 is specially formulated for very mature and dull skin and helps to instantly refresh skin and leave it looking more radiant. It also deeply hydrates the skin which helps to restore a glowing complexion.
L'Oreal Age Perfect Rosy Day Golden Age Cream with an SPF 15 50ml retails for R249.95 and the Age Perfect Rosy Night Cream Golden Age 50ml is also R249.95.
L'Oreal Age Perfect Golden Age SPF 15 Rich RE-Fortifying Cream 50ml is formulated to rescue very mature skin by plumping up the skin to restore lost density. It contains a combination of neo-calcium, which is known for its fortifying properties, and SPF sun protection.
L'Oreal Age Perfect Golden Age Rich Re-Fortifying Night Cream 50ml works hard overnight to help very mature skin regain its youth. Enriched with emollient oils to deeply moisturise the skin and restore its protective barrier.
Also the Treat Company Turkish Rose which we shared was so yummy. I love when you can actually taste the rose and it has that lovely lift.