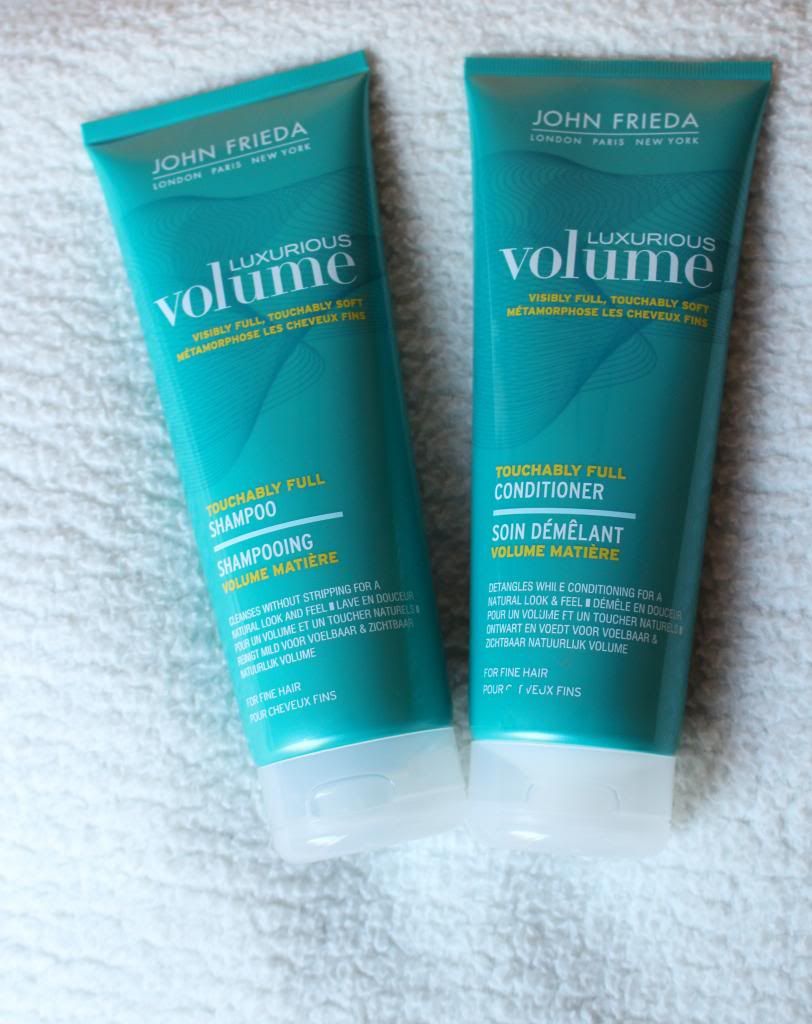 When it comes to hair, mine is very complicated. It is very thick in terms of quantity but fine in terms of actual strands. I also abuse it with hair dye, straighteners and curling tongs. All of this equals damage however my hair is very forgiving an grows insanely fast. This means that when it comes to selecting shampoos and conditioners I never know whether to go for a volumising one or if that is too much for fine hair, perhaps one for colour treated hair would work better or even just one for damage. The other issue I have is that my hair tends to become very dry on the ends but also looks oily at the roots if a conditioner is too heavy.
When I received this Volumising duo from John Frieda I was skeptical to say the least. Yes we all want big bouncy shiny locks but usually volume = too stripping, too heavy or leaves a build up.
The formula of the shampoo is very salon-like and a small amount spreads easily and is vast enough to cover all of my hair. This is the first plus. I also found it to be very hyro-active (when shampoo lathers more the wetter your hair is and therefore cleans ones scalp better). Remember shampoo is to be applied to scalp only and then let it rinse down throughout your hair.
The conditioner felt moisturising but didn't feel too heavy when applying. Both smell clean and fresh but neither have a distinct overpowering smell which is another plus for me.
After simply blowdrying my hair normally and adding no styling product (in order to have an honest fair review) my hair felt light but full. There was definite increase in volume and when later styling it into soft curls this was even more prominent. One thing I loved was how soft my hair felt, I can't remember the last time a shampoo and conditioner made it this soft and I have since been using them daily (well every second day as I give my hair one day off after a wash).
You can pick up any of the John Frieda products from Clicks and each retails at R95
*Product gifted for possible review purposes