At the end of last year Herbalife sent me some products to try. I knew of the brand and had seen people promoting it all over Facebook and on Instagram. All the people promoting it also happened to be distributers for the brand. Which has always created a level of unsureness from my side. I was however quite keen to give the products a try after receiving them and being able to read through the ingredient lists and do some research for myself. I was however on new medication during Dec and Jan and was told to steer clear of all supplements which meant the minute February rolled around I was able to properly test out the Herbalife products.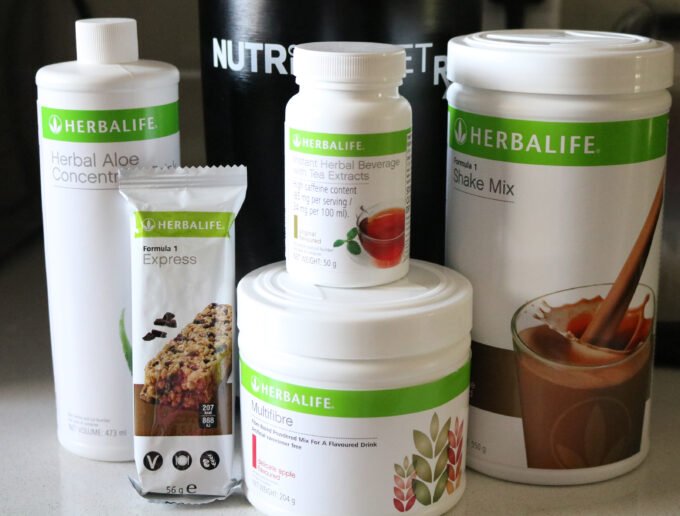 I received the following (you can read all about what's inside of each in further detail by clicking on it):
Formula 1 Shake Mix in the flavour Chocolate
Herbal Aloe Concentrate Drink
Instant Herbal Beverage with Tea Extracts
MultiFibre in Delicate Apple Flavour
Formula 1 Express Bar in Chocolate
From what I can gather the Herbalife range is an easy cross-over to health and wellness. It is not in my mind a 100% healthy in that the products do contain ingredients like corn starch, high amounts of fructose and flavourings. In saying that jumping to a superfoods pure green shake is not for everyone and these products encourage a more gradual shift to taking care of oneself.
The Formula 1 Shake for instance is not something I'd usually reach for but was actually delicious and kept me full until lunch time. This is a far better option then skipping breakfast all together. The high amounts of protein and added fibre kept my blood sugar levels solid and the vitamins helped wake me up a bit.
The Herbal Aloe Concentrate Drink was my least favourite. I know that Aloe can have a laxative effect and Herbalife markets this concentrate as more of a way to get your water intake higher and to flavour regular water rather than just keep you regular. They also state that it's a way to avoid sugary drinks but then you read that the second ingredient listed is sugar so… I think I'll stick to plain water with a sprig of mint rather.
The Instant Herbal Beverage however was delicious and oh so energising! It has a pretty high caffeine content with 85mg per serving and can be enjoyed hot or cold. With orange pekoe leaf extract, green tea extract And natural caffeine powder expect to be ready to tackle the day after sipping through a small cup of this. The touch of hibiscus and cardamon creates a lovely warming taste. I could do with less sweetness from the fructose though.
The Express Bar tastes like every other protein bar I've ever tasted but fairly palatable overall. The Express bar also contains added vitamins and minerals and saved me from "starving" when I discovered that I'd popped it into my handbag the other day.
Finally the product that impressed me enough to warrant reviewing this range, The MultiFibre powder. It is a very nice tasting (and artificial sweetener-free) blend of soluble and insoluble fibres from natural sources- apple, oat, maize, citrus, chicory and soya. I am particularly fond of the inulin in the chicory root which is a prebiotic fibre as it's highly fermentable by the friendly bacteria in the gut. Since using this daily, I've suffered from significantly less bloating so thumbs-up for this product.