Estee Lauder sent over a little black box filled with some new products to try, among them was the Little Black Primer. The Little Black Primer has received a lot of hype but mostly surrounding its ad featuring Kendall Jenner, the new face of Estee Lauder. However, it really deserves a lot more hype because it is phenomenal!
As a beauty blogger you learn that there are a great number of good products out there and tend to alternate quite frequently between them but The Little Black Primer is sitting firmly on a pedestal when it comes to my eye makeup routine and I don't see it shifting from there any time soon.
Estee Lauder Little Black Primer is an innovative 3-in-1 primer as it not only primes your lashes but also offers a subtle lash tint and a water-resistant topcoat. I have been wearing it on its own on my more casual days. This is the perfect tool for those who feel that their eyes "disappear" when they don't have any eye make-up on as it does provide a tint as well as surprisingly good added length to your lashes.
The formula is incredible! I honestly can't stop raving about it as it doesn't become flaky or smudge and yes when paired with your favourite mascara it gives you some serious volume. It also conditions ones lashes, defines them and as it is lightweight and water-resistant it is ideal for those with sensitive eyes (as well as those who wear contact lens).
Below is a selfie I took to show how natural and defined my lashes look with only the Little Black Primer on…
Estee Lauder Little Black Primer retails for R345 and is available at Estee Lauder counters nationwide.
The lovely team at Estee Lauder also included some other great products that are new to their make-up range and that complete the perfectly primed look.
First we have the Matte Perfecting Primer (R355) which I am also wearing in the above pic. I would like to point out that there is absolutely no filter or airbrushing on the selfie image and I am facing natural light. The effect that the primer gives on one's skin is very noticeable. It simply creates a flawless canvas for any foundation that you wish to apply over.
The Matte Perfecting Primer contains skin-calming Green Tea and Vitamin E to re-balance and perfect and is also oil-free making it ideal for normal to oily skin types.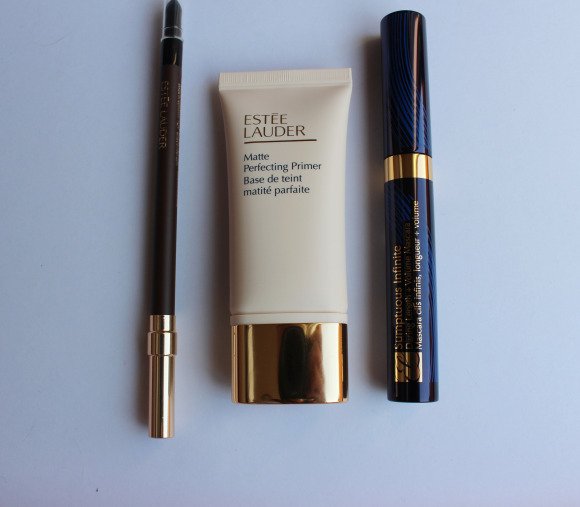 Double Wear Stay-In-Place in 02 Coffee eye pencil (R325). This is a lovely deep dark brown that almost appears black when applied but doesn't have the harshness of the dark black shade Onyx. I have used this eye pencil many times in the past and am glad that they finally brought out the Coffee shade, especially for us fairer skinned girls.
Sumptuous Infinite Mascara Daring Length and Volume in Black (R345), if there is one thing that Estee Lauder's products do it's exactly what they claim to do word-for-word. When I wear this mascara I sometimes have trouble wearing sunglasses because my lashes are so long. Anyone else ever experience this problem before? This beauty contains stretchable fibers to give you extra, extra length and when worn with a primer it doubles on volume too. I do find myself needing to comb after applying to avoid any lashes from clumping when the formula is still wet but once it has set it definitely does not budge. That is one thing I have realised… I love cheap affordable mascaras, looking at you Catrice Flase Lashes, and they can do just as great a job as the expensive ones when it comes to lengthening and volumising but I will guaranteed end up looking tired or worse like a panda through-out the day as the mascara smudges off. Higher end mascaras like this one stay put and look great Am to PM and to me that is worth the extra money spent.