I have another giveaway! This time from the incredible Africology range. They sent me their top 5 products and you get to choose which one sounds like the best product of the bunch. Read through my reviews and enter your details below for a chance to win your chosen product.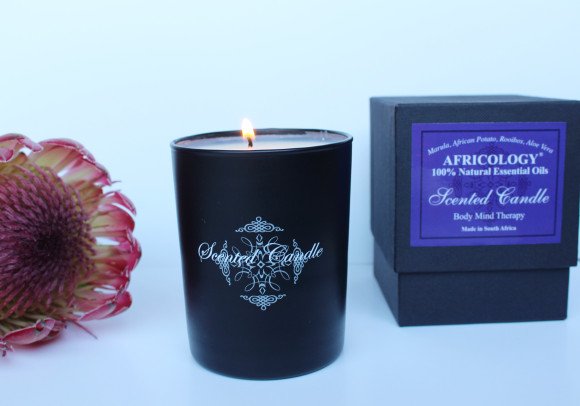 There is something so luxurious about a beautifully fragranced candle. The Africology Gardenia candle (R340) comes in this lovely box, which can be re-used so I love it. It is so exquisitely presented and will make the perfect gift. The Africology Gardenia candle is made with pure, natural essential oils and organic, sustainable beeswax and soy flakes.
Africology is a brand with a conscious awareness for mind, body, spirit as well as nature. I try to burn a candle each evening so when I read the description of how best to use this candle I thought it was so special to add this element…"Lighting a candle is a beautiful way of showing gratitude. We urge you to take time and think of all the good in your world. With this in mind, light your candle. A daily ritual of candle-burning not only fragrances your space: it creates a sacred space filled with good intentions."
Next up we have the famous Neroli Body Balm (R225). Africology Body Balms are multi-tasking wonders and you can use the balm directly on your skin, use some in your bath and you use it in your burner. I am so drawn to the calming scent of Neroli and have been using this balm daily on winter-dry skin. Neroli helps to relieve. stress and creates a feeling of calm and restfulness. Neroli stimulates cell regeneration and the repairing process.
Anti- Aging SOS Spray (R400) smells incredible. It has a zesty floral scent and I love that the spray can be used over the full body. I'll definitely be packing this beauty into my bag often in summer. It instantly refreshes and re-hydrates the skin thanks to a powerful dose of Hyaluronic Acid.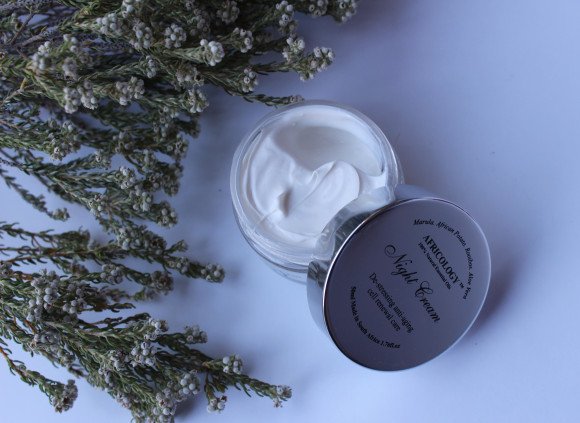 Africology Night Cream (R600) is suitable for all skin types and my oily combination skin has been lovely the balancing effect from this hydrating night cream. I tend to get breakouts from most night creams so was a little cautious at first but a small half a pea size amount is enough and I am happy to report I haven't had any extra breakouts since using it I attribute this to the beeswax which holds in moisture without clogging pores and which creates a light barrier protects the skin from invasive impurities. This powerful anti-aging product also contains Glycoproteins which re-activate tissue renewal by stimulating cell respiration. When these proteins are combined with palmitoyl pentapeptide-3, collagen and fibronectin production are stimulated.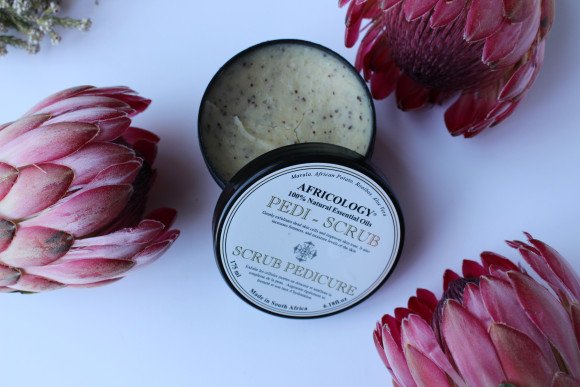 Rounding off the top 5 Africology products is their Pedi Scrub (R280). I am a bit obsessive about taking care of my feet. I love foot peels and buffing, scrubbing and deep moisturizing… I love it all. So yes I was admittedly very excited to spot this on in the hamper. It is amazing!
Africology have an online store which you can check out here or you can find a stockist near you over here.
To win your favourite from the 5 products above enter your details below….
*Competition is only open to SA readers