Last month I was unable to attend a Rubybox Blogger breakfast but the lovely ladies still sent me a box to try out. I have been meaning to do a video but never seem to find the time or adequate lighting (working a 9-5 and all) so here is my rather late un-boxing post!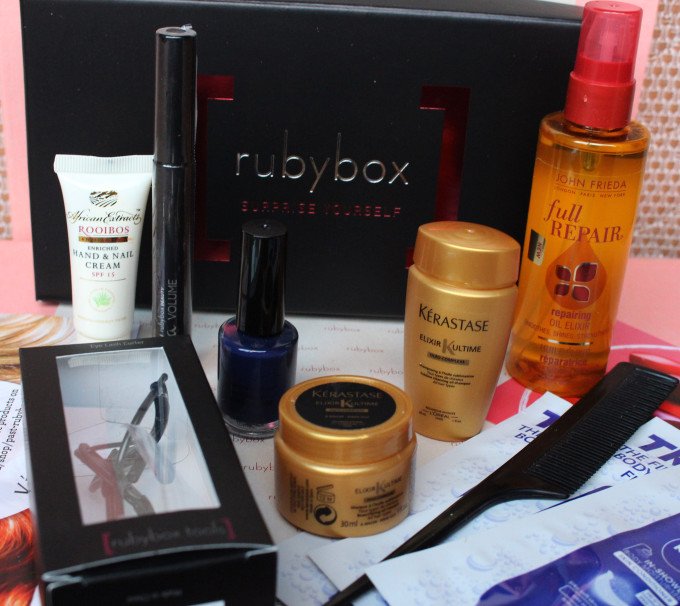 Since the beginning I have been a Rubybox subscriber, only recently cancelling because I am already inundated with beauty products to try out, I really enjoyed my subscriptions each month and still use their online store on a monthly basis. Rubybox is a great way to try out new and interesting products before spending your hard-earned cash on a full-sized product.
In my Rubybox I received…
A fairly large although not full size John Frieda Full Repair Repairing oil elixir- I am a big John Frieda fan and will be doing a review soon on their Sheer Blonde range as well as the Full Repair range soon.
An African Extracts Rooibos enriched hand and nail cream sample which I quite like and find it perfect for softening the cuticles.
Three samples of Nivea's new In-shower Body Moisturiser, this is exactly why the concept of Rubybox works…I have been wanting to try this out for some time now but didn't want to be stuck with a full size bottle in case I didn't like it so I put off purchasing one. Cue the samples in Rubybox and I have four to try out because you can't always base a yes or no answer off just one try or maybe I am just indecisive. I liked it so much that I went and bought a full bottle after the third sample.
Two exciting samples for me were the Kerastase Elixir Ultime Masque and Elixir Ultime Sublime Cleansing Oil Shampoo, although very small and not enough to coat my full locks they did do magic to my ends and I will be purchasing the Masque come payday.
In my box I also received a little comb, ideal for combing through dye or parting hair to trim it.
Rubybox have their own branded products and tools available on their online store Rubybox.co.za. Included for me to try out was the Eyelash curler, a very handy tool to have and the grip is really good on it. A dark blue nail polish which I will be trying once my gelish nails are off and their Va Va Volume mascara.
I am a difficult mascara tester as I am very particular about the consistency and the brush. I also despise mascara that result in panda eyes by midday. To be honest I wasn't expecting much but was pleasantly surprised. There is definite volume element to it and the brush provides a good coating without any clumps.
July sees Rubybox pop-up stores at Cavendish Square (Cape Town), Fourways Mall (Gauteng) and Gateway (Durban) which will be up until the 31st of July. The pop-up stores are a great way to find out more about Rubybox, view the range of Rubybox-branded products and sign up for the 99c offer. From August the monthly rubybox subscription is R169 and the value of the monthly rubybox is R250+.