The Skin Creamery is a divine local natural skincare range that I recently had the pleasure of testing out. The range honours good environmental practices from start to finish,and uses locally grown ingredients, locally sourced packaging and all of the products are free from harmful chemicals and synthetic fragrances. I attended a fabulous intimate launch of two of their new products last month and have since been using them on a regular basis.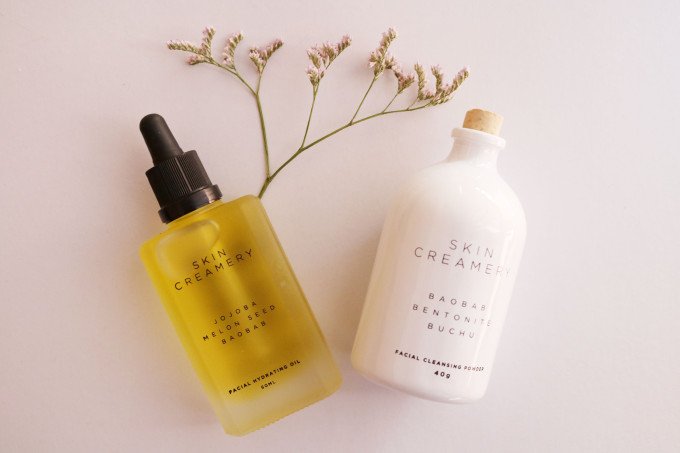 The launch was at the Spirit Cafe in Constantia and if you vegan/vegetarian or just after really delicious healthy food then definitely try their buffet lunch. It was absolutely divine, in particular the caesar salad with kale.
Let's get back to the products, shall we. The range is still very small and only consists of three products- An Everyday cream, Cleansing Facial Powder and a Facial Hydrating oil. I received the two newbies; the Cleansing Facial Powder (R240) and the Facial Hydrating Oil (R285) to try out.
These versatile products have worked their way into my regular skincare routine to the point that I don't know how I went on without them. I am in love with the Hydrating oil that is so much more than just a facial oil. You can add a few drops of water to it to make it spread more easily (as well as last longer) and it will still sink into the skin. I actually love using it on my arms, especially my upper arms where I battle with Keratosis Pilaris. It's so moisturising and nourishing that it really helps to reduce the redness of the KP. It contains a blend of jojoba oil, marula oil and Kalahari melon seed oil.
I also have plenty of love for the Cleansing Facial Powder which can in fact be used several ways. I've found it works wonders as a facial cleanser but can also be used on ones body in the shower which feels wonderful when gently massaged into the skin. It can also be used as a facial mask, add a few drops of water and and pat onto your face. I have to warn you though, this is quite a potent formula and breakouts are to be expected for the first couple days/uses as with all deep cleansers. My favourite use is when blended with a drop of honey (the good raw untreated kind) and applied to single pimples. Leave for a few hours or overnight and it will actually shrink those buggers and reduce the redness too.