A couple of weeks ago I had a skin treatment which simply did not agree with my skin at all. Now not every product or treatment is going to be some magical experience which is why I predominately write about the good products and treatments. However, this caused my skin to break out like I was 15 years old! I didn't quite know what to do as none of my usual go-to's was helping. I decided to give the NEW Garnier Skin Active Botanical Range a try. The rate at which skincare is moving into a more ethical and eco-conscious space is incredible and this range contains 96% natural origin ingredients.
The reason I decided to trial this range during possibly the worst period my skin has ever looked is that they are 100% transparent as to what is inside the range. Where are the "hard to read" ingredients actually originate from and this helps consumers be able to inform themselves, after all, that's what the modern woman wants? The bottles and jars are made with 20-30% recycled plastic and are 100% recyclable!!! They also use FSC-Certified paper which means that Garnier supports a better forest management worldwide.
There are three ranges: Sensi Rose for sensitive and dry skin, Purity range for combination to oily skin and the range which I reviewed, Fresh Aloe for combination to oily skin.
I am beyond grateful that we have finally moved away from using harsh chemicals and stripping oily skin. Instead, the focus nowadays is to hydrate and moisturise ones oily skin in a way that doesn't leave it feeling greasy.
Each of the three ranges consists of a wash, toner and moisturiser. Making skin care simple and accessible. The Fresh Aloe botanical gel wash gently foams but doesn't cause tightness, the botanical toner really helped to balance out my skin and it's breakouts. Finally, the moisturiser left my skin hydrated and definitely didn't leave any clogged pores or a greasy feeling.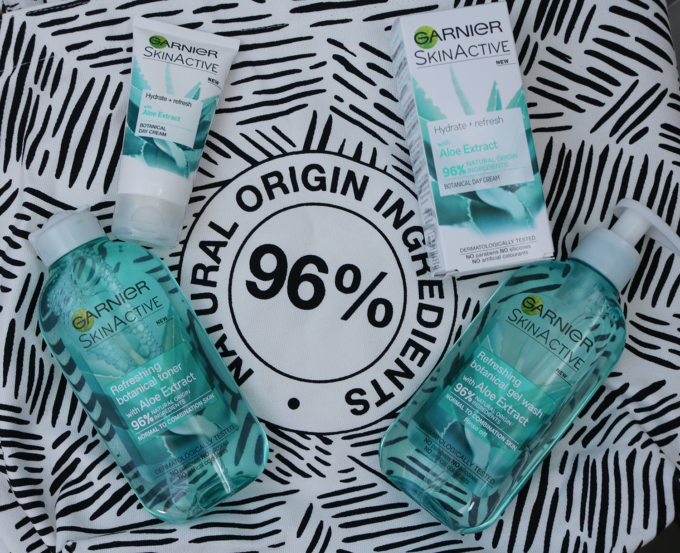 Overall, I am impressed with the steps Garnier is taking to create a more sustainable beauty industry. This range is perfect for someone who wants to be more conscious of the environment, requires something more affordable and enjoys the ease of a simple three-step beauty routine.