If you don't know about the brand RushTush and the incredibly inspiring businesswoman behind it Rushda Moosajee. Then you need to follow her on Instagram where I guarantee you she'll motivate you to take control of your health and fitness. Not only does she have the most insightful, simple but effective meal plans. I followed the Glow Cleanse for a month and then swapped over to the Vegan Cleanse when I started Veganuary (more about that in another post!).
The focus of her brand is a fitness lifestyle for ALL females.
IT'S TIME TO GLOW UP
"Forever learning, reading and experiencing all different styles of training, Rushda discovered that there's never one way to train the female body and that most women are all after a common goal – they want to be confident, feel strong, stand tall and be able to hold their own.
It is an ideal based on mindset, rather than a number on the scale."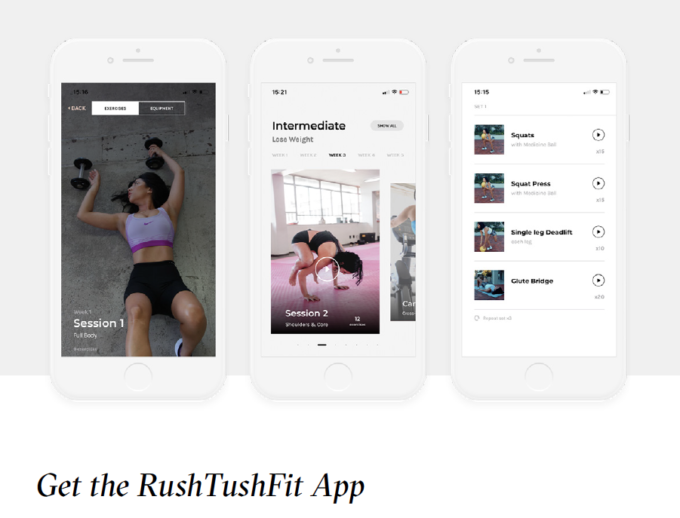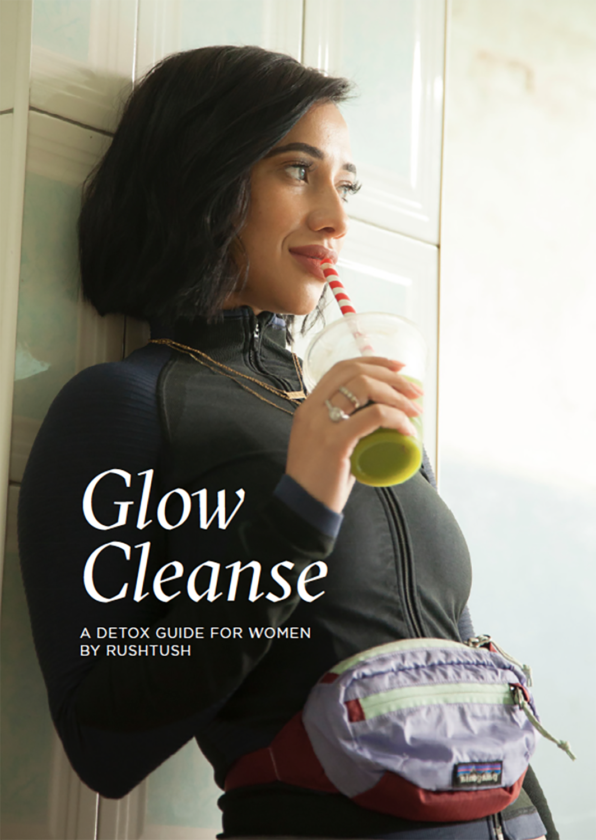 Starting the Glow Cleanse
So part of my Rush Tush Glow Getter journey has consisted of combining the eating plan, some of their health supplements and using the new RushTushFitApp. Download the RushTushFit app for Apple or Android and get a 2-week free trial!
The RushTushFit app is available to download on The App Store and Google Play Store at R250/month on an annual subscription or R299.99/month on a monthly subscription. The exercises, like the eating plans, are accessible for everyone. They are also "covid-friendly" as they can all be done at home with a few affordable equipment items. Even though RushTush is about lifestyle changes and fitness, therefore it is less focused on weight-loss as such.
I did select the "Beginner Weight Loss" exercise routines. Due to changing of chronic medications, stress and a few other factors I noticed myself gaining a substantial weight for my frame and in my mind. I was always really, really slim and then at around 26-year old, I went up a size. Still petite at size 30. So turning 30 and heading to the size 32 department and still feeling uncomfortable I noticed just how much my body had changed. Now I know that using the actual numbers on the scale, counting the Kilograms lost or gained and even using the above example of clothing sizes, which we all know fluctuate brand-by-brand, isn't the best approach. However, for me to compartmentalize things and physically seeing and feeling the difference it has been helpful.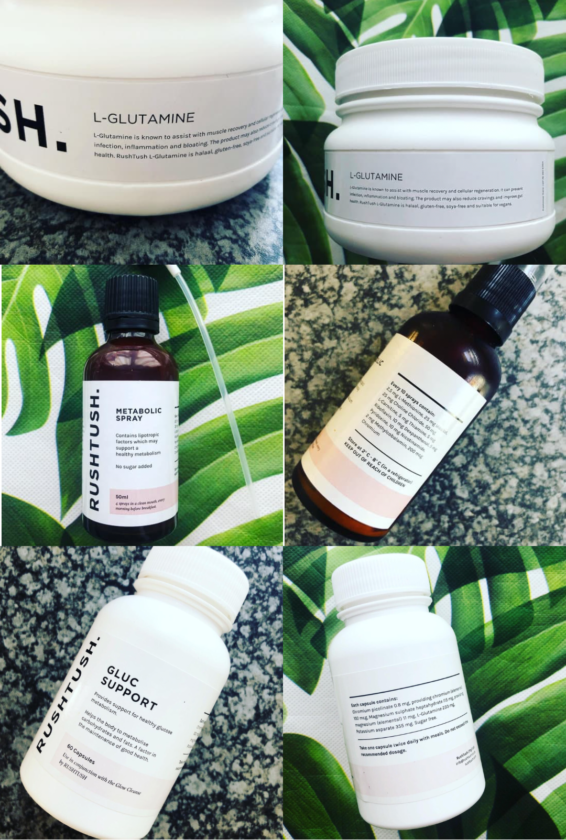 The RushTush Pharmaceuticals are the third part of the Glow Getter journey and I'd like to breakdown the three which I have been using. Please note that all the supplements are health supplements and not stimulants or packed with any nasties. The three above and the Detox tea (R115) which I love are all vegan and I, like everyone should, checked with my doctor before starting them. These are not diet products! They do aid with fitness, but also energy and blood sugar levels.
Metabolic Spray (R800): Contains Lipotropic factors which may support a healthy metabolism.
Gluc Support (R540): Has been fantastic in helping with my intense carb cravings! It provides support with the metabolism of glucose. So no massive sugar-induced highs and then crashes which lead to carb cravings. My weakness. For some, it's just plain sugary cravings.
L-Glutamine (R375): I have taken L-Glutamine, an amino acid, supplements over the years. Mostly for digestive issues. It is a wonder health product though and helps with muscle recovery and cellular regeneration. I've always loved it as it works superbly for bloating, it also prevents infection and helps with inflammation!
I started with the Glow Cleanse eating plan on the 18th November and then when I began my Veganuary Challenge on the 21st December I swapped over to the Vegan Cleanse. One thing about these plans which I've noticed is just how they have changed my attitude towards food. I have no need to count calories or feel restricted or ever hungry!
The Glow Cleanse was interesting for me as it motivated me to snack more frequently but with sustainable food options. Aside from the increase in my consumption of eggs. The rest of the meals I adjusted to my pescetarian lifestyle with meat-alternatives and occasionally the fish dishes recommended. When I changed over I enjoyed the freedom the Vegan Cleanse allowed with regular "meal of my choice options". This meant that I was able to increase my consumption of more balanced meals, plenty of tasty vegetable dishes and the amazing juices! Having an actual eating plan has also allowed me to batch-cook and has made prep-work far simpler. Same with online shopping. Also my intense devour a large pizza every night craving has disappeared!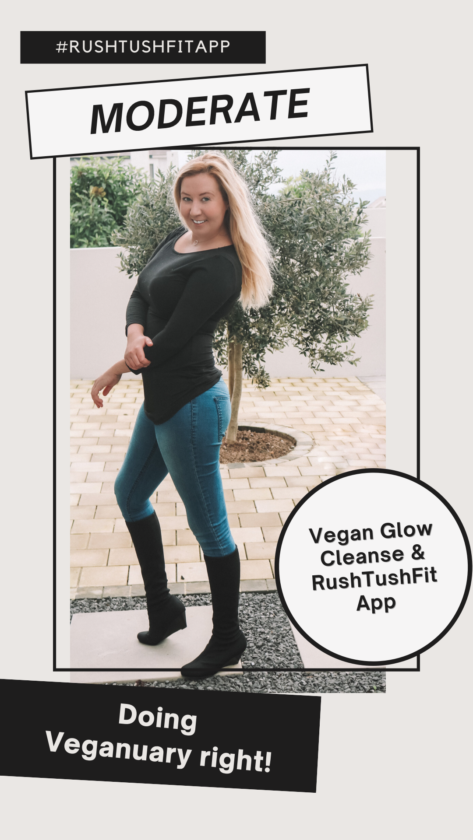 I have also progressed to the Intermediate fitness level on the app as well as seen some muscles developing. My bone mass level has also increased (due to weight training), oh and I have lost 6kgs!