My hair is kind of my thing. I probably spend more money on my haircare routine than on my skincare routine. I'm constantly changing up the length and style and colour too and all of this wrecks havoc on the overall health of ones hair. However, a couple months ago I suddenly became rather lazy when it came to washing my hair and relied a bit too much on dry shampoo to keep my crown of hair looking fresh. Now don't get me wrong I still love dry shampoo but it does mess with ones scalp and tend to cause an imbalance. The more I used it, the more oily my hair became. I developed a very greasy scalp and one which no clarifying shampoo or vinegar rinse could budge. My hair stylist at Style Bar told me all about Moroccan Oil Oily Scalp Treatment.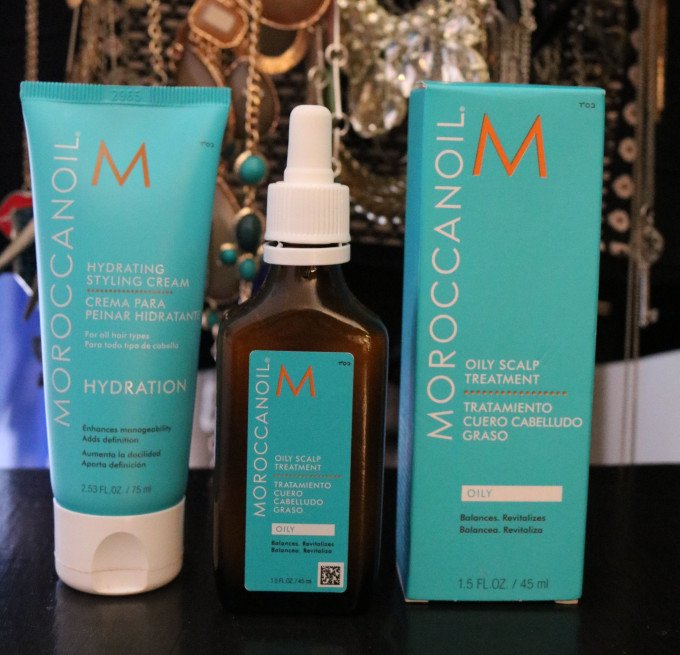 At R355 for a small bottle (45ml), Moroccan Oil Oil No More Scalp Treatment is more of a luxury then an impulse purchase but I needed something to fix the problem fast so saw it as an investment. It really paid off and after only a few uses my scalp felt healthy, balanced and the oily patches disappeared. I still have "oily roots and dry ends" because that is my natural hair type but this does help with more problematic oiliness. It really sorts out overly productive sebum and leaves my hair feeling lighter and soft.
Now that I only every now and then use dry shampoo I haven't experienced the oil issue again and am very happy with the current products I've been using. Also worth a mention is this Moroccan Oil Hydration Styling Cream which I received in a Rubybox a long time ago. After seeing results with my first ever MoroccanOil purchase I decided to give it a try and was so impressed.
This not only gives one immense hydration but it leaves my hair soft and manageable. If I am styling my hair with dramatic curls and wanting them to remain soft then I use a small amount of this on my hair when it is damp. I'm almost out of this sample and will definitely be purchasing the full-sized one soon! It's R395 for 300ml on Retail Box. The 75ml trial size has lasted a good couple months so I think R395 for 300ml is actually really reasonable.