Thanks to stress and a multitude of other factors my skin has been going through quite an odd phase. It honestly feels like I have regressed back to when I was 15 years old and my forehead was covered in tiny little pimples. Along with these small pimples my skin started to look very dull and was seriously needing some brightening up. I received the new Skin Perfection range from L'Oreal and the timing couldn't have been better. It was some kind of good skin kismet.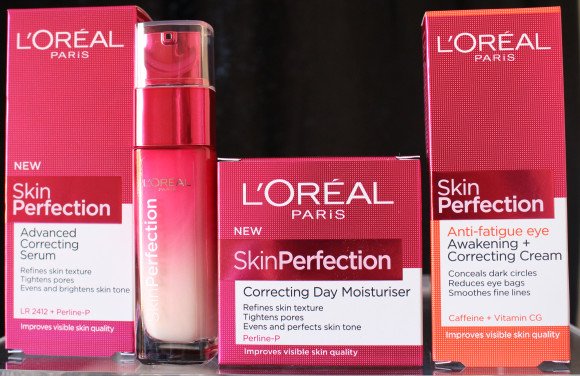 Within the range there is the Skin Perfection Correcting Day Moisturiser, the Advanced Correcting serum and the Anti-Fatigue Awakening and Correcting Cream.
Anti-Fatigue Awakening and Correcting Cream was the first product to win me over. During exams I tend to resemble a zombie with dark circles dominating my face. When you have applied two really good concealers and people still comment on you looking tired then you know it is time to use something to eliminate them along with actually getting 8 hours sleep! The Skin Perfection Anti-Fatigue Awakening and Correcting Cream (R124,95) really does help to brighten ones eyes. It contains Caffeine and Vitamin CG which help to act on the 3 dimensions of eye fatigue dark circles, fine lines and eye bags. I hardly ever suffer from eye bags so I can't account for that but as far as dark circles go the formula does increase circulation which in turn helps with dark circles and the tinted formula helps to conceal. The tint is no a shade however but contains pigments which balance out the blue this means you can still apply foundation over it with the area appearing "muddy". The formula is suitable for sensitive eyes.
Skin Perfection Correcting Day Moisturiser (R124,95) has helped to brighten my skin tone and my skin appears more healthy since I've been using it. The stress spots are still there for the most part but they haven't gotten worse and are slowly disappearing. Whether this is due to better stress management or the cream, I can't say. The Skin Perfection Correcting Day Moisturiser is very moisturising though and during these colder days I have found that my skin doesn't feel as thirsty when I have applied this cream. This moisturiser is great for ladies with slightly drier skin tones that are prone to flakiness and uneven skin tone.
The Advanced Correcting Serum (R124,95) helps to refine ones skin texture. It contains LR 2412 and Perline P. LR 2412 is a powerful active which optimises the structure of the epidermis to improve the quality of the skin's appearance. Perline P is an association of 3 perfecting actives which act on pores, skin tone and skin texture. Sounds pretty good? The results are just as good as the claims. After only a week of using the serum (in conjunction with the moisturiser) my skin feels softer. I love serums because if you do wear foundation then the foundations apply far better and will also look more natural. As with the moisturiser the effects are better the longer you use the range.
Overall the L'Oreal Skin Perfection range is incredibly well-priced and is definitely worth a purchase if even polished looking skin is what you are after.