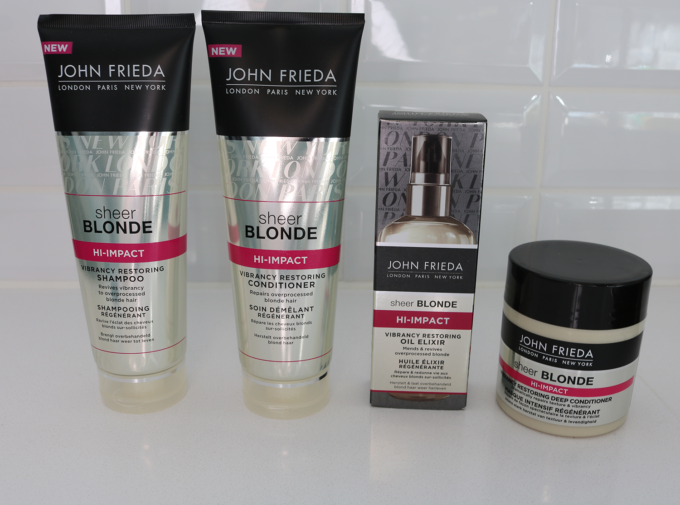 Let's face it maintaining blonde hair isn't easy. You don't want your hair to go too brassy so you use something that makes it ashy and that tends to dry out the hair even more so. Or you use a shampoo that strips the colour from your hair making it look dull. However, whenever anyone asks me for a shampoo and conditioner recommendation for blonde hair I tell them about John Frieda Sheer Blonde Hi-Impact. No matter what your hair type is, fine, coarse, frizzy this duo will help maintain the shine and sleekness. John Frieda if you ever need a brand ambassador for this range then just holler over here!
It's well-priced at R115 for the shampoo and conditioner respectively, you can also stock-pile like I do when there is a Clicks buy 3 get 1 free deal. It is just quite simply put the perfect regular shampoo for blondes. I obviously use some protein-rich products and shampoos for damage now and then but if you've walked out of the hairdresser, spent a ton of money on colour and a treatment and can't afford the salon products recommended then grab this and rest assured that your shine will be there and your colour won't be stripped after two washes.
John Frieda has expanded on their Sheer Blonde Hi-Impact range by including a vibrancy restoring deep conditioner which dare I say is on a par with Philip Kingsley's Elasticizer treatment. Yes, PK is a pre-wash treatment and this is a deep conditioner but my hair feels just as silky soft after using both and John Frieda's is a quarter of the price at only R115!
The John Frieda Sheer Blonde Brightening Oil Elixir (R149) is great for adding shine and helping with flyaways plus it has added heat protection. It's a pretty good formula if your tips are really over-processed and need some TLC.
Disclosure Ranking: 2