John Frieda Frizz Ease Hair Serum
I naturally have some frizz around my crown area and since I have been trying to cut down on blowdrying and heat styling as often as usual it is now even more visible. Going au natural is never a bad thing but frizz can ruin a look so when I received this little "miracle worker" from John Frieda I was excited to see if it could tame my frizz without weighing down my hair or creating any product build-up.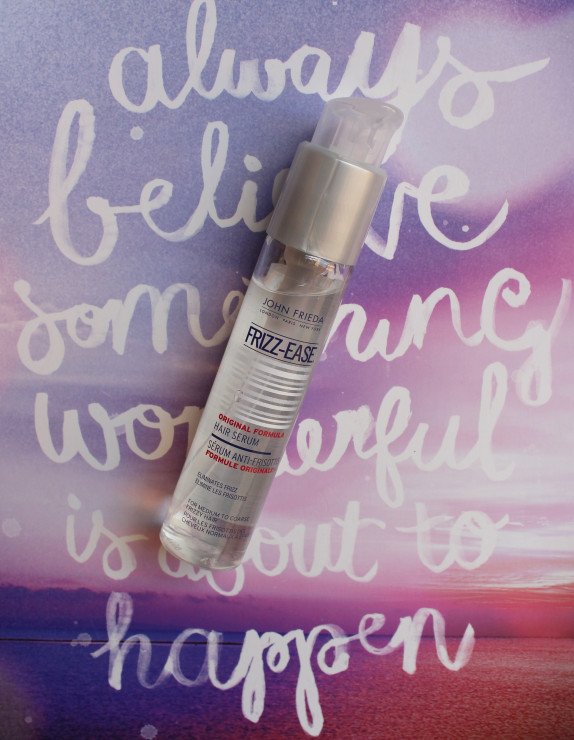 The first interesting thing about this serum is that it should be applied to wet hair. I actually prefer applying products to wet hair as it usually is less heavy than. Which with a serum can be a good or a bad thing. Fortunately with John Frieda's Frizz Ease serum it is very much a good thing. It coats and protects the hair from start to finish, through from brushing to blow-drying to styling. The formula is a blend of silicone's and this is what makes this work so well. I usually steer clear from too many silicone's in my hair products as over time they can make ones hair appear dull but if you use a regular clarifying shampoo every second week or so you won't have to worry too much about build-up. In saying that however, I won't use this product on an everyday of the year basis and really feels that it is great come summertime (or even holiday-time if you are travelling to humid locations then definitely take this bottle along! Hair is left looking glossy, feeling soft and frizz is banished. Another great product from John Frieda.
John Frieda Frizz Ease Serum is available exclusively at Clicks stores and retails for R99