There are so many incredible beauty products out there that sometimes it is baffling as to decide what works better and should you spend an insane amount of money on a seemingly miracle product or will the cheaper version do.
As a rule of thumb creams especially anti-aging creams are the big investment products and you shouldn't scrimp on them.
Same goes for heat protectant and hair styling products but there are certain areas where you can save and use everyday household products in your beauty routine.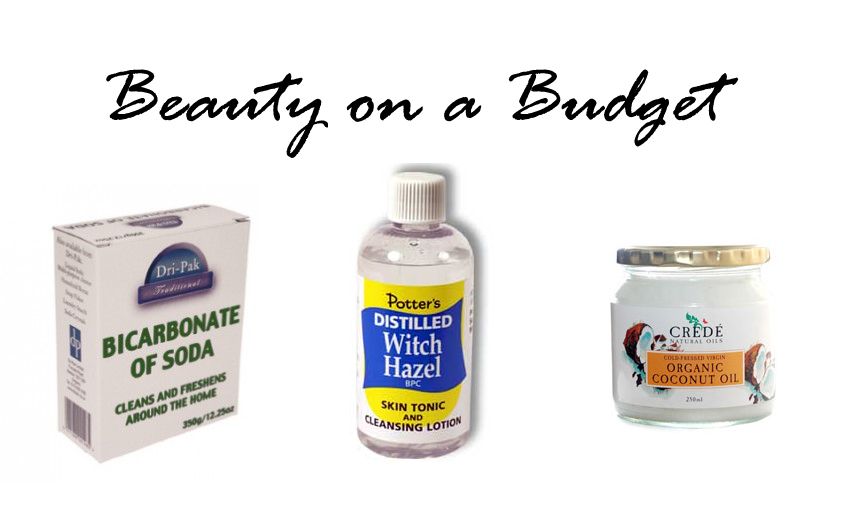 My favourite is Bicarbonate of soda. A total all-rounder and incredibly cheap to purchase. It can be used as an exfoliating facial scrub. Gently (always be gentle when using scrubs you aren't aiming for an incredibly red face) rub some bicarb mixed with water into a paste and focus on your T-Zone. It works wonder to clean out pores and blackheads. It also has anti-inflammatory properties so great for those with acne.
Bicarb can be used when washing your hair to remove product build-up, just sprinkle a tablespoon onto your hair, mainly the root area then wash as you normally would with shampoo and conditioner.
Bicarbonate of Soda can be found at most supermarkets in the baking section.
The next super cheap and amazing product is witch hazel, this is a herbal tonic with incredible astringent properties making it ideal to use as a facial toner. You can combine this with rose water for a soothing effect. Witch hazel is also fabulous for those that suffer from Keratosis Pilaris (those little red dots on the back of ones arms) just apply twice a day for results. Witch hazel can be found at Clicks, DisChem and most pharmacies, just make sure you get the alcohol free one as alcohol is never good to apply to ones face!
Finally my ultimate beauty of a budget product is coconut oil, it is around R55 for 250ml. Packed full of omega 6 it does wonder for ones skin, hair and nails. It is considered a good fat and contains an enzyme that can actually speed up ones metabolism. I use coconut oil in place of butter on bread and it goes wonderfully with avocados another good fat!
You can apply coconut oil to your skin as an intensive moisturiser and it has that delightful summer smell to it but isn't as overpowering as most coconut fragranced products.
Coconut oil makes the ultimate hair mask and I have started using it in place of most salon treatments as I have very thick hair and they end up becoming far too pricey. Just apply to the ends of your hair or even your entire head as the oil does wash out fairly easily leave to soak in for an hour or longer if you have the time then wash out (normal shampoo and conditioner). Remember shampoo should only be used on your scalp and roots and conditioner the rest of your hair!
Do you have any budget beauty tips?