Winter seems to have finally and Cape Town has been feeling the chill. The dreary, rainy weather this weekend is perfect for indulging in some rich spicy foods and delicious red wines. Van Loveren sent over a box of their wines and included some Walker Bay spices and recipe pairing key cards.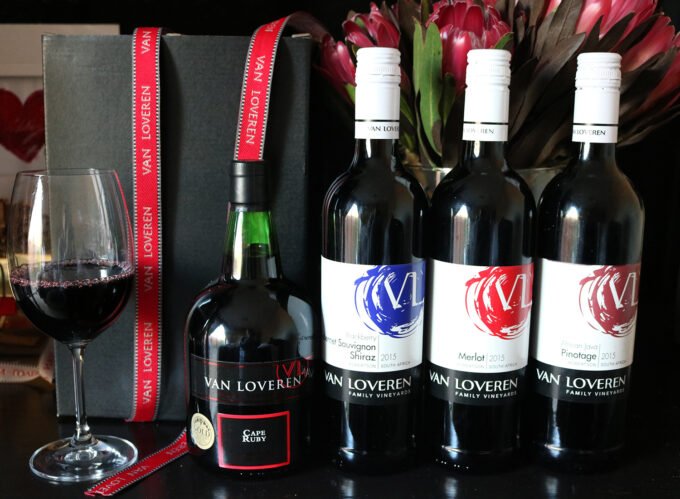 Red wine is the perfect companion for creamy pastas, warming stews and even on their own, perfect for snuggling up close to the fire place and relaxing.
I received four wines to try:
-Van Loveren blend (comprising 60% Cabernet Sauvignon and Merlot) is an elegant wine with subtle fruity notes and a strong smokey tobacco finish which comes from the oak maturation. I enjoyed the complexity of this wine and it will pair well with meat dishes and spicy stews.
-Van Loveren Blue Velvet Pinot Noir, a former Michelangelo International Wine Awards gold-medal winner. This was an utterly delightful wine. With bursts of raspberries and cranberries balanced with earthy tones. It's particularly ideal with cheesy, creamy dishes.
– I completely fell in love with the smooth and lightly-oaked Van Loveren Java Pinotage. The wine has an intense aroma of roasted coffee beans and flavours of vibrant plum and ripe berry fruit. Perfect with hearty red meat dishes as well as curries. I had this with a divine Palak Paneer curry and they worked so well. Each mouthful and sip was a delight for the tastebuds.
– I am not much of a sweet wine fan but I was happy to try the highly rated Van Loveren Muscadel. Made from Muscat de Frontignan grapes, the full-sweet, fortified wine is definitely an opulent wine. Its smooth on the palate and has a wonderful lingering finish. It certainly warms one up and can easily be enjoyed on its own or with cheese and fruit, or if you are more of a sweet tooth then with a decadent baked chocolate pudding.
Van Loveren included some Walker Bay spices as well as some recipe cards and I will admit I've only thus far attempted the Bean Soup which was absolutely delicious. However, with this cold weather I am tempted to give the brownies a try this afternoon!