Last week I had yet another delightful meal at Equus. Equus is situated on the pristine Cavalli Estate next to the R44 in Stellenbosch. The estate itself delights my OCD self as everything is perfect from the white picket fences around the paddocks to the neat perfectly lined rows of indigenous flora. The panoramic views from the estate are also breathtaking. It is no wonder that Equus was awarded the 2014 Boschendal Style Award.
I have been to Equus a number of times for their Bistro Lunch (the Miso Glazed Aubergine is divine) but had yet to visit for their Fine Dining evening menu. For a full three course meal including wine and tea you should expect to pay on average R400 per person or more if you will be having cocktails.
I do implore you to try their cocktails though as they are exceptional and very unique too as they are inspired by the Cape Floral Kingdom. Cavalli aims to commit to rehabilitate and re-establish the exquisite diversity of this precious ecosystem. Everything about this estate has a purpose. Developed in conjunction with the Green Building Council of South Africa, Equus at Cavalli is the first restaurant to apply for certification under the Green Star SA rating system.
The bread was exceptional (especially the walnut one) and it was served with smooth red wine butter. As we were all vegetarians at my table the chef specially prepared a vegetarian Amuse-Bouche ; potato, asparagus, zucchini with a sun-dried tomato paste.
For Starters I had the Waldorf Salad- Cider, Blue Cheese, Raisins, Celery and Candied Walnuts (R85). The crisp tart apple with the strong blue cheese and the surprising sweet crunch from the candied walnut worked so well.
For the main I chose the vegetarian option- A Composition of corn, White Miso, Polenta, Tofu, Marshmallow, Eggplant, Burnt Bechamel, Teriyaki Gastrique (R145). It was out of this world delicious and every mouthful had a unique flavour sensation. The presentation of the meal was also superb and a lot of the time it was an adventure to discover what each thing was. While many may say fine dining is "too little food" I beg to differ and found this plate to be more than enough. Fine Dining fills you up in a sneaky way as you tend to eat many different foods versus same-same i.e a pasta.
I am not much of a dessert person but I had to try the Chocolate Mascarpone Sphere with Dark roasted coffee, Vanilla Bean Snow, Sable and Chocolate Lava (R80) it was indulgently rich but had a delightful balance and was just the right size.
We also decided to take our tea outside as it was a beautiful balmy summer's evening. We each tried a different one and my personal favourites were Lord of Kanem (Rwandan green mint tea and figs) and Nandi Queen of Zululand (Honeybush, coconut, peppermint & mango).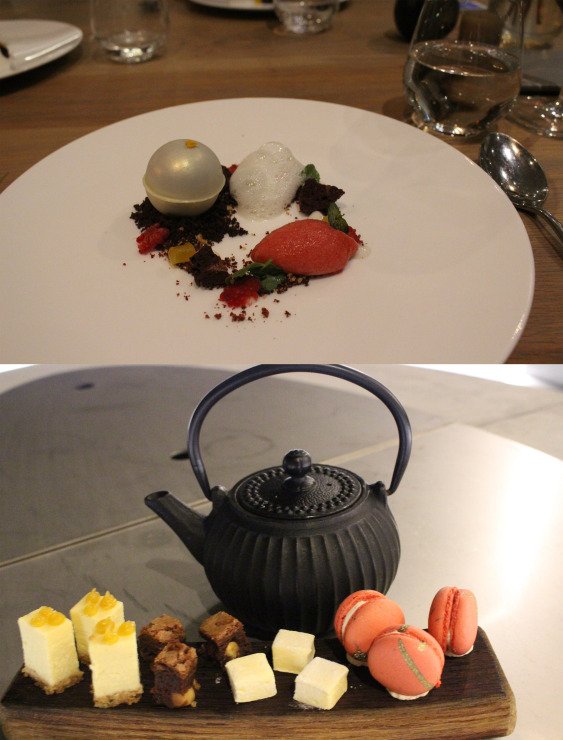 I highly recommend Equus at Cavalli, my two suggestions would be make sure that you book ahead for dinner no matter what night you go it is usually full. For Bistro lunch you are generally safe if you book on the day. Also if you have picky eaters in your group then it's best to view the menu online before since they have quite a limited menu of around 5 dishes i.e one fish dish, one game, one vegetarian etc.