Oh my goodness, I didn't expect to fall in love with these products as much as I did. I've always stuck to Environ body care products, specifically their Derma-Lac. Environ Derma-Lac is one of my holy-grail products so I probably should have ventured more into their facial care lines.
The NEW launch of their latest innovation in skin care treatment is the Environ Focus Care Range. I mean, just look at my reaction in my video…
The Focus Care Moisture+ Hydrating Oil Capsules have been something I've been reaching for every evening to provide nourishment and hydration. These hydrating capsules are packed with a vitamin-hydration to give your skin that extra boost.
WOW! This masque has changed my skin care beauty routine and is a total MUST! Environ's award-winning Focus Care Youth+ Tri BioBotanical Revival Masque is globally renowned as a "facelift in a jar". It truly is spectacular.
Environ's Vita-Enriched Antioxidant Gel. Is excellent to add to your regular skincare routine. Pre-cleanse, cleanse and tone with your preferred Environ Skin Care products. Apply Antioxidant Gel evenly to the face, neck and décolleté or any focus area of sensitivity before moisturising with your regular vitamin A-enriched Environ moisturiser. This I purchased myself since I loved the products so much.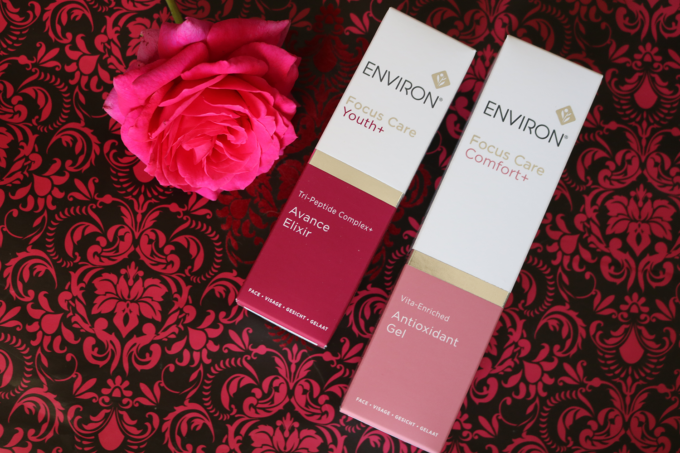 The Environ focus care youth tri-peptide complex advanced elixir is a Tri-Peptide Complex+ Avance Elixir. which helps to reduce the damaging effects of UV radiation and pollution on the skin. Assists in maintaining the appearance of a more radiantly youthful and even complexion. Improves skin's overall tone, texture and appearance by helping to minimise the visible signs of ageing.
Above is a very flattering before and after shot of my skin. As a blogger, you truly do expose all. Both were taken straight out of the shower, hence the frizz. Zero makeup aside from my micro-bladed brows and an eyelash tint in the after. My skin, however, is completely bare. I was more tanned in the before shot, taken a month ago, but you can see the pigmentation and dark spots across my cheeks and nose. In the after shot, they aren't as visible.
To find your nearest Environ Skin Care stockist via the Environ website (Click here). My closest stockist is Die Boord in Stellenbosch.
Thank you so much to Rubybox and Environ for sending over these awesome products!
P.S I am giving away a hamper of the three products Environ and Rubybox sent… Enter on my Insta https://www.instagram.com/p/Bp1NZHIn4i3/