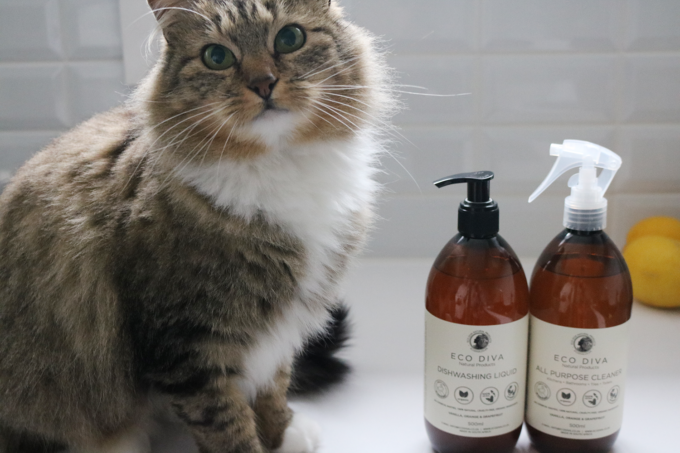 I recently visited the Eco Diva store in the Waterkant and honestly, I fell in love with the entire philosophy behind the range, the look and the products themselves. To learn more about their story and philosophy you can visit the site here. They also have an online store if you're not Cape Town based.
I'm currently trialing several skincare products so decided to try out their 100% Natural Cleaning Range first. Their skincare products and formulas look fantastic though and I'm also dying to try the luxurious body oil. All of the products are unisex and organic. They are also moving towards becoming a 100% vegan brand by eliminating beeswax and lactic acid from some of their products.
Since having Ella, you can follow her on Instagram, she loves the camera, in the house I've become more conscious of what house-cleaning products I use.
Eco Diva's Home Care products are all non-toxic, anti-bacterial and biodegradable.
The range consists of an All Purpose Cleaner (R125), a Dish Washing Liquid (R110) and a Room Mist (R130). And yes how amazing are those prices! The All Purpose Cleaner is a personal favourite and it gets rid of stains in seconds. The Dish Washing Liquid is 100% eco-friendly, biodegradable, non-toxic, vegan-friendly, cruelty-free and safe for family animals and greywater systems. It also doesn't strip one's skin of moisture so you can safely clean plates etc without any need for gloves. Finally, who doesn't love a refreshing room mist, with bursts of grapefruit, bergamot, and vanilla it is both refreshing and calming.